A happy hump day it is, because we get to slide into the weekend knowing that Detectorists, one of the best British comedies ever, is returning for another season. Woo hoo!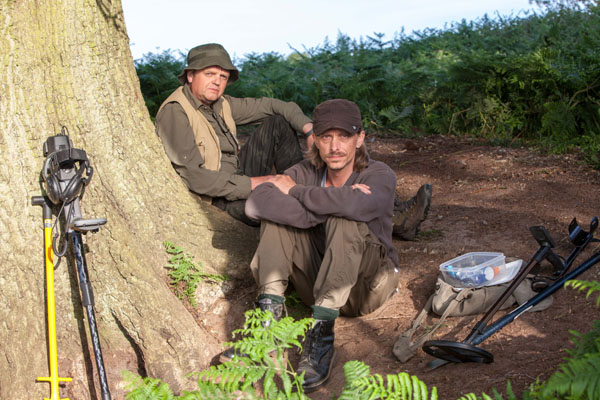 This current golden age of television has produced shows that I'm calling "the new classics," and Detectorists — the winner of the 2015 BAFTA Award for Best Scripted Comedy — is most definitely one of them.
Starring BAFTA winner and series writer and director Mackenzie Crook (Game of Thrones, The Office UK, Pirates of the Caribbean franchise) and Golden Globe®, Primetime Emmy®, and BAFTA nominee Toby Jones (Agatha Christie's The Witness for the Prosecution, The Secret Agent, The Hunger Games), Detectorists revolves around the lives of two oddball metal detecting enthusiasts who scour the northern Essex countryside for treasure. (And if you've seen Series 2, you already know that one of them found something much more remarkable than a soda can pull-tab.)
Rachael Stirling (The Bletchley Circle, Capital) will reprise her role of Becky, Andy's (Crook) girlfriend and the mother of his son, in the new season. There's been no word about the rest of the regular cast, but the show wouldn't be Detectorists without the members of the Danebury Metal Detecting Club (DMDC), am I right?
An Acorn TV Original, Detectorists: Series 3 is currently in production and will include six new episodes. It will premiere in North America on Acorn TV in early 2018.
Acorn Media Enterprises is the North American co-producer of this third and final season of Detectorists, in partnership with Channel X North, Lola Entertainment, Treasure Trove Productions, and international distributor DRG.
Stay tuned for updates.
__________________

Add your comments on our Facebook, Google+, and Twitter pages.
Share this post/page.

Detectorists: Acorn TV to Premiere Series 3 of BAFTA-Winning Comedy in the US