Two of today's most popular hit Brit mystery series — Death in Paradise and Father Brown — have each been recommissioned by BBC One for a new season. Hurrah!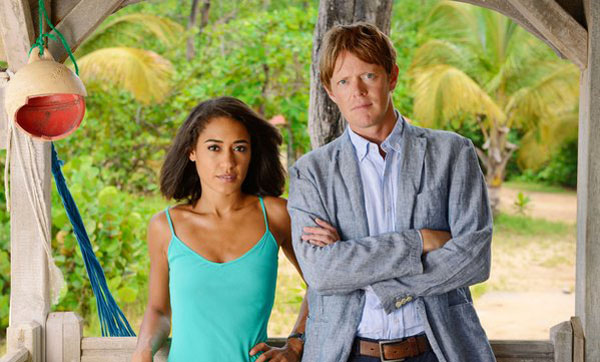 Set on the fictional Caribbean island of Saint Marie (and filmed on the French island of Guadeloupe), Death in Paradise has proved to be an audience favorite ever since it launched in 2011 with Ben Miller and Sara Martins in the lead roles as detectives for the Honoré Police.
Following Miller's (and subsequently Martins') departure from the series in 2014 (and 2015) and the introduction of Kris Miller as DI Humphrey Goodman and Joséphine Jobert as DS Florence Cassell, Death in Paradise has stayed in the top of the weekly primetime ratings in the UK. Series 5, which concludes its run on BBC One tonight, has delivered to date a consolidated 8.1 million viewers and 31% share, making it one of BBC One's highest-rated dramas.
So it's no surprise, then, that Charlotte Moore, Controller of BBC One, and Polly Hill, Controller of BBC Drama Commissioning, have recommissioned the quirky mystery dramedy for its sixth series.
What can we expect in Series 6? More complex and mysterious murder cases and another impressive line-up of guest stars across eight new hour-long episodes.
For viewers in the US, Series 5 will screen later in 2016 on public TV stations, which have been airing Series 1-4. Viewers whose local stations aren't broadcasting the program can stream Series 1-3.
Another of BBC One's quirky mystery dramedies, only this one airing during the channel's daytime programming block, Father Brown is set to return for a fifth series.
Series 4, which began and completed its ten-episode run back in January, delivered a consolidated series average of 2.1 million viewers. (That's more than what some primetime series get.)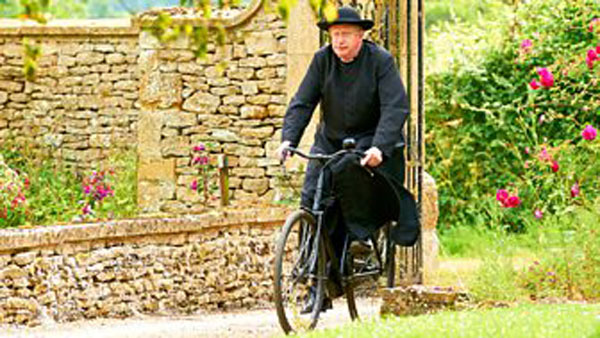 UK ratings, though, are just part of Father Brown's success story. Since it launched in 2013, the series has been picked up by programmers in 162 territories, making it one of the most sought-after programs around the world, including the US.
Based on the "Father Brown" stories by G.K. Chesterton, and set in the idyllic (fictional) English village of Kembleford in the early 1950s, Mark Williams (Harry Potter) stars as the eponymous Roman Catholic priest, whose sleuthing arises from his concern for saving people's souls.
Further details have not been released yet, but expect to see the rest of the regular cast to reprise their roles, as well, including Sorcha Cusack as church secretary Mrs McCarthy; Nancy Carroll as socialite Lady Felicia; Alex Price as mischievous chauffeur Sid Carter; and John Burton as Sergeant Goodfellow.
Stateside fans of Father Brown can rest assured that public TV stations, which have been airing Series 1-3, will also screen Series 4. It is in this latest season that Jack Deam (DCI Banks) is introduced as the newest copper in Kembleford, Inspector Mallory. If you haven't had the pleasure yet of watching one of the most enjoyable series on telly, you can stream Series 1-2 online.
Stay tuned for updates about both Death in Paradise: Series 6 and Father Brown: Series 5, including guest stars and premiere dates.
__________________

Add your comments on our Facebook and Twitter pages.

Share this post/page.

Death in Paradise & Father Brown: BBC One Renews Hit Brit Mysteries