The third and final season of The Musketeers is set to make its US debut, but instead of airing on cable as the first two seasons did, it will premiere exclusively on Hulu.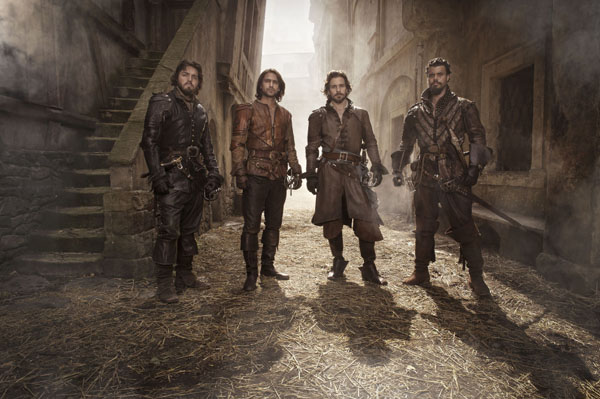 In yet another exclusivity deal with BBC Worldwide, Hulu has picked up the exclusive US streaming video on-demand rights to The Musketeers.
This includes the premiere of Season 3 PLUS all episodes from Seasons 1 and 2, making Hulu the one and only stateside home for the period action drama inspired by The Three Musketeers, the classic novel by French author Alexandre Dumas.
The complete series will be available for streaming to Hulu subscribers starting this Saturday, 14 May 2016.
Set in 17th century Paris, The Musketeers stars Luke Pasqualino (Skins, The Borgias) as D'Artagnan, Tom Burke (War & Peace, The Hour) as Athos, Santiago Cabrera (Merlin, Heroes) as Aramis, and Howard Charles (Royal Shakespeare Company) as Porthos. In addition to being the royal bodyguards for the King of France, the four loyal and highly-trained soldiers stand as one for social justice, honor, valor, and love… as well as for the thrill of it all.
Costarring in Season 3 are two-time Golden Globes and BAFTA nominee Rupert Everett (An Ideal Husband, My Best Friend's Wedding) as Governor Feron, Matthew McNulty (Black Work, The Paradise) as Lucien Grimaud, and Matt Stokoe (The Village, Misfits) as Captain Marcheaux
Reprising their roles in the series are Ryan Gage (The Hobbit: The Desolation of Smaug) as King Louis XIII, Alexandra Dowling (Agatha Christie's Poirot) as Queen Anne, and Tamla Kari (Cuckoo) as Constance.
Created and written by BAFTA Awards winner Adrian Hodges (My Week With Marilyn, Primeval), along with Simon Ashford (Robin Hood), Peter McKenna (Red Rock), and Simon Allen (New Tricks) for Season 3, The Musketeers is a production of BBC Drama Production Salford for BBC One, co-produced by BBC Worldwide.
__________________

Add your comments on our Facebook and Twitter pages.

Share this post/page.

The Musketeers: Season 3 to Premiere in the US Exclusively on Hulu