There is double good news for Line of Duty. The BBC has moved the incredible police drama from BBC Two to its flagship BBC One channel and recommissioned it for a fifth series.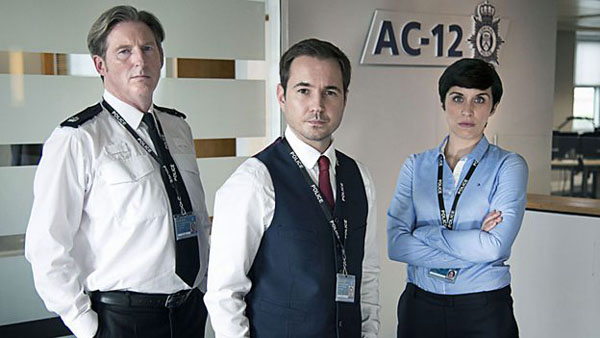 For UK-based fans of Line of Duty, who've been asking the BBC to move the drama from BBC Two to BBC One, your wish has been granted. Starting with Series 4, Line of Duty will air on the BBC's main channel alongside other powerhouse dramas such as Call the Midwife, Doctor Who, and Poldark.
For UK and US viewers and everyone else who can't get enough of Jed Mercurio's award-winning, beyond-brilliant cops-versus-cops drama, the news gets better. The BBC has also commissioned a fifth series, to be produced once again by World Productions.
Line of Duty: Series 3 recently did gangbusters on BBC Two, netting a consolidated average of 5.1 million viewers, making it the highest-rated drama on the channel since the BBC began using the current audience measurement system in 2002. The explosive finale consolidated at 5.6 million viewers.
Mercurio, currently writing Series 4, said:
"We've been overwhelmed by the extremely flattering response to series three. Much of the credit should go to our brilliant cast and crew and to Simon Heath and Priscilla Parish at World Productions. We're deeply grateful for the unstinting support we receive from Charlotte Moore, Stephen Wright and the whole BBC team. It's an immense privilege to be able to reward Line Of Duty fans with two more series on BBC One."
Production on Line of Duty: Series 4 is slated to begin this fall. Stay tuned for updates.
And if you haven't watched Series 3 yet, head over to Hulu Plus in the US or Amazon Video in the UK, where it's streaming in its entirety. (Read details about the third series in "Line of Duty: Best Series Yet of Must-Watch Police Drama Premieres in the US.")
__________________

Add your comments on our Facebook and Twitter pages.

Share this post/page.

Line of Duty: Fantabulous Police Thriller Moves to BBC One & Gets Series 5