When it comes to streaming video services, stateside consumers have choices galore. And according to Consumer Reports ratings, Acorn TV tops all VoD services in the overall score.

If there were such a thing as a bespoke streaming service for the North American British TV fan, Acorn TV would be it.
Tailor-made, as it were, for viewers whose tastes range from the colorful, quirky characters of shows such as Doc Martin, Detectorists, and The Brokenwood Mysteries, to the darker, intricately-woven storylines of dramas such as Vera, Jack Irish, and Janet King, Acorn TV brings some of the best programs from the UK, the Republic of Ireland, Down Under, and beyond, to viewers on the west side of the pond.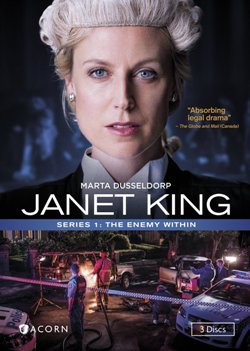 And in Consumer Reports' most recent "Streaming Video Services Ratings" (subscription), Acorn TV is at the top of the list in satisfaction scores — besting the eleven other subscription and pay-per-view services that made the published rankings, including Netflix, Amazon Video (Prime Video SVoD and Instant Video PPV), Hulu, iTunes, Vudu, and Google Play.
What's more, Acorn TV is the only one of the dozen that garnered a positive rating for value, which Consumer Reports defines as "the performance and availability of streaming from the service for the money spent."
Speaking of, Acorn TV has maintained the pricing of its two subscription options since it launched in 2011: $4.99/month or $49.99/year. Either plan gives viewers access to the SVoD service's titles on telly, mobile devices, and online, including programs that premiere exclusively on Acorn TV each month in the US (and more often than not in Canada, too).
The big three amongst the SVoD streaming services — Netflix, Amazon Prime Video, and Hulu Plus — have UK TV exclusives, as well, but not every month (at least not to date).
And while each of them is considerably larger than Acorn TV, this niche streaming service's subscriber base nearly doubled in size, netting an 85% increase, over the last year.
Will this upward trend continue? We shall see. What's definite is Acorn TV has more brilliant exclusives premiering in 2016, including British thriller The Secret Agent, the first full series of Aussie drama Jack Irish, and the new Irish crime drama Clean Break, on top of British TV classics and fan-favorites.
For more information about Acorn TV, visit their website.
__________________

Add your comments on our Facebook and Twitter pages.

Share this post/page.

Acorn TV Is Consumer Reports' Top-Rated Streaming Video Service