BBC One has announced that Pearl Mackie will play Bill, the new companion to Peter Capaldi's Time Lord in Doctor Who.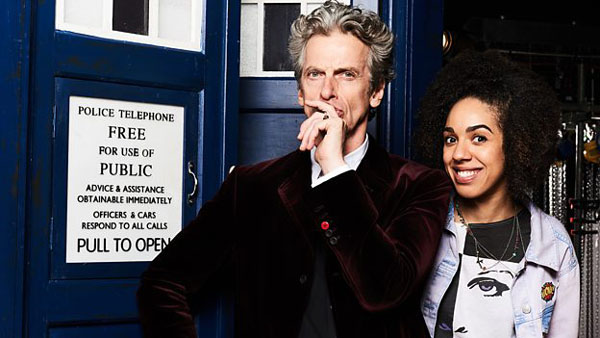 BBC One revealed the news earlier today, during half-time of the channel's coverage of the FA Cup semi-final match.
Pearl Mackie, a relative newcomer with parts in the British soap Doctors and feature film Svengali, will have her first major television role playing Bill, the sixth regular companion to the Doctor (in the series reboot), whose twelfth incarnation is played by Peter Capaldi.
Exclaimed Pearl about joining the cast of worldwide hit Doctor Who:
"I'm incredibly excited to be joining the Doctor Who family. It's such an extraordinary British institution, I couldn't be prouder to call the TARDIS my home!

"Peter Capaldi is such a brilliant actor, and his Doctor is such a wacky and wonderful character, I can't wait to see what adventures are in store for him and Bill throughout time and space.

"Reading the script at the audition I thought Bill was wicked. Fantastically written, cool, strong, sharp, a little bit vulnerable with a bit of geekiness thrown in – I can't wait to bring her to life, and to see how she develops through the series.

"I always loved stage combat at drama school so I can't wait to get on set and kick some evil monsters into the next dimension!

"Shooting the trailer was absolutely mental, there were pyrotechnics and smoke and I met my first Dalek! I'm not sure it will ever become 'the norm' seeing crazy monsters on set, but I cannot wait to meet some more! The weirder the better, bring it on!"
Peter Capaldi said:
"It is a genuine delight to welcome Pearl Mackie to Doctor Who. A fine, fine actress with a wonderful zest and charm, she's a refreshing addition to the TARDIS and will bring a universe of exciting new possibilities to The Doctor's adventures."
Steven Moffat, Lead Writer and Executive Producer, added:
"A new face in the TARDIS, a new voyage about to begin: welcome aboard the amazing Pearl Mackie! This is where the story really starts."
Produced by BBC Cymru Wales, Doctor Who will return later this year with a Christmas Special. The new series will premiere in 2017.
__________________

Add your comments on our Facebook and Twitter pages.

Share this post/page.

Doctor Who: Pearl Mackie Is Bill, the Time Lord's New Companion