There will be several new cast members in the third and final series of the hit crime drama The Fall, which has begun filming in Belfast, Northern Ireland.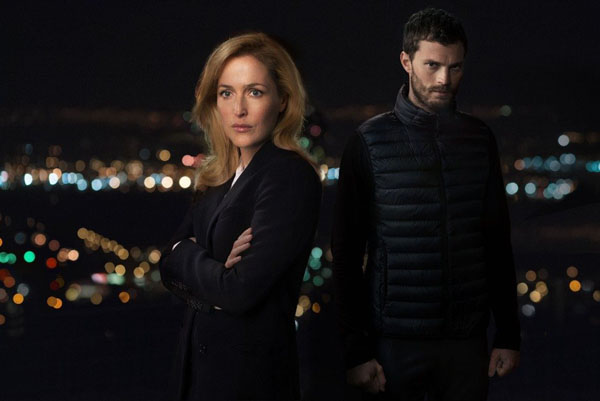 Gillian Anderson and Jamie Dornan reprise their roles as DS Stella Gibson and serial killer Paul Spector for the third and final chapter of the award-winning, critically-acclaimed psychological crime thriller The Fall.
Joining them are new cast members Krister Henriksson (Wallander, Modus), Aidan McArdle (Mr Selfridge, Garrow's Law), Ruth Bradley (Humans, Love/Hate), Aisling Bea (Trollied, The Delivery Man), and Richard Coyle (Crossbones, Coupling).
Colin Morgan (The Living and the Dead, Humans) also returns as DS Tom Anderson, as do series regulars John Lynch as ACC Jim Burns; Valene Kane as Rose Stagg, one of Paul's former lovers; Stuart Graham as DCI Matt Eastwood; Bronagh Waugh as Sally Ann Spector, Paul's wife; and Aisling Franciosi as Katie Benedetto, the Spectors' former babysitter.
(Warning: Spoilers ahead if you haven't seen Series 2.)
Series 3 picks up the action from where the heart-stopping Series 2 finale left off, with the ambushed and critically-injured Spector bleeding to death in DS Gibson's arms. In the aftermath of the shooting, the shocked and desperate detective, who's been on a crusade to deliver justice to his victims' families, must  now fight to keep the serial killer alive.
Said series creator, writer, and director Allan Cubitt:
"I've been on a very exciting journey over the last five years with Stella Gibson and Paul Spector – the central characters of The Fall – and I'm thrilled to have recently started filming the third installment of their macabre, obsessive dance of death. Gillian and Jamie have lived and breathed those characters during that time and I've been incredibly well-served as both writer and director by their stellar performances. Obviously I don't want to give anything away about how the third series will end but I can say that I am looking forward to working with both Gillian and Jamie again in the near future!"
A production of Fables Limited, in association with Artists Studio for BBC Two, The Fall is produced by Gub Neal and Carol Moorhead, and executive produced by Patrick Irwin and Justin Thomson-Glover for Artists Studio, Stephen Wright for BBC Northern Ireland, Allan Cubitt, and Gillian Anderson.
The five-part series will screen on BBC Two in the UK and Netflix in the US. Stay tuned for updates about premiere dates.
__________________

Add your comments on our Facebook and Twitter pages.

Share this post/page.

The Fall: Gillian Anderson, Jamie Dornan Joined by New Cast in Third and Final Series