Colin Morgan's latest character won't need to plug in or hide from the law, as he plays a fully-human and haunted rather than hunted being in the new BBC supernatural period mystery drama The Living and the Dead.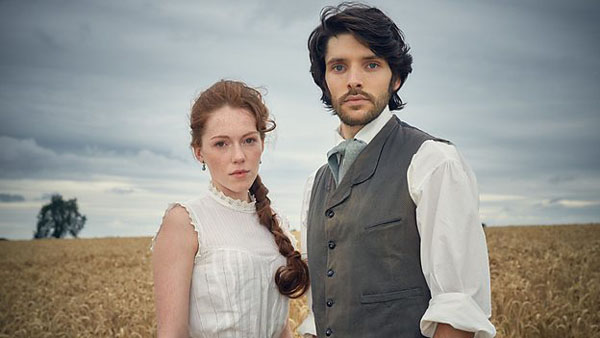 The 2013 National Television Award winner for Most Popular Male Drama Performance, Colin Morgan (Humans, The Fall, Merlin) has the lead role of Nathan Appleby in the six-part The Living And The Dead.
Costarring with Morgan is Charlotte Spencer (Glue, Stonemouth, Line Of Duty), a 2015 BAFTA nominee for Best Supporting Actress, who plays Nathan's wife Charlotte Appleby.
The Living and the Dead is set in 1894 in Somerset, England, where Nathan and Charlotte encounter strange, unsettling, and dangerous supernatural phenomena after moving to a farm they've inherited. With such disturbing goings-on in this isolated corner of the country, the very-much-in-love young couple, determined to start a new life together, are understandably stressed. And under pressure to save both their marriage and their home from eerie forces that are threatening them.
Created by Ashley Pharoah (Life On Mars, Ashes To Ashes), The Living and the Dead is executive produced by Pharoah and Matthew Graham (MI-5, Hustle) for Monastic Productions, and Faith Penhale (EastEnders, Nearly Famous) and Katie McAleese (Ripper Street, In the Flesh) for BBC Wales Drama Production. The producer is Eliza Mellor (Poldark, Death Comes To Pemberley) and Alice Troughton (Cucumber, In The Flesh) is the director.
The Living And The Dead is a BBC Wales Drama production in association with Monastic Productions and co-produced with BBC America.
Filming has begun in the West Country, and the UK and US premiere dates have not yet been announced. Stay tuned for further details.
__________________
Add your comments on our Facebook, Google+, and Twitter pages.
Share this post/page.

Colin Morgan Goes from Synth to Haunted Human in 'The Living and the Dead'