There are only a handful of British TV series set in the 1950s, one of which is the detective drama WPC 56. A hit on BBC One for two going on three seasons, WPC 56 is set to make fans of US viewers, too, when it begins screening on public TV stations.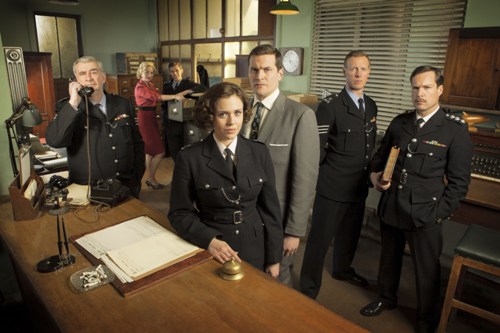 Before we get into the nitty-gritty of the series, let's start with its title. WPC stands for Woman Police Constable and 56 is the identification number of the uniformed officer that is the titular character of WPC 56.
(You'll be able to see this clearly on the epaulet of her uniform in one of the episodes.)
The given name of WPC 56 is Gina Dawson (Jennie Jacques, Desperate Romantics), the first female officer of the (fictional) Brinford police force in the West Midlands. Dawson is ever so enthusiastic about being a copper, but it is her determination to succeed as one that helps her to weather the rampant sexism and chauvanism of, and even harassment by, the male officers, which includes but isn't limited to the humiliating "Brinford brand."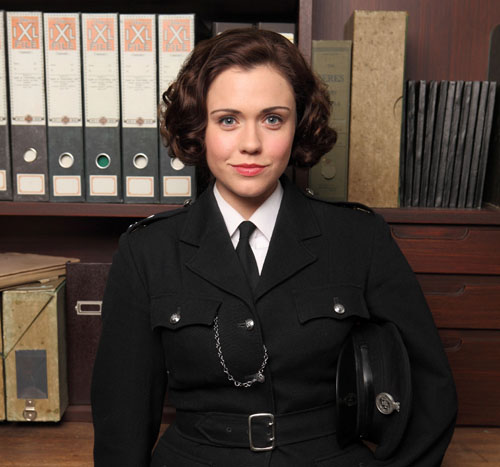 Chief Inspector Roger Nelson (John Light, North & South), he of the perpetual scowl, begrudges Dawson's assignment to Brinford, but he's short-staffed, so on his team she is. He makes it clear to her on her first day that she is not to distract "the men" from doing to their duties, her role is to help them in matters involving women and children, and her job is to support the male officers with their jobs — the business of "real" police work.
DI Jack Burns (Kieran Bew, Da Vinci's Demons) is less dismissive, unless you count his asking Dawson to make tea within minutes of her arrival at the station. That aside, he actually welcomes Dawson's help with his case, and more besides…
The worst of the lot is Sergeant Sidney Fenton (Charles De'Ath, The Last Detective), a bully, bruiser, and chauvanist pig (pun intended) who makes no bones about his narrow-mindedness toward women. (And gays, as we later learn.) Fenton isn't the be-all, end-all when it comes to maintaining law and order, either, as we shall also discover.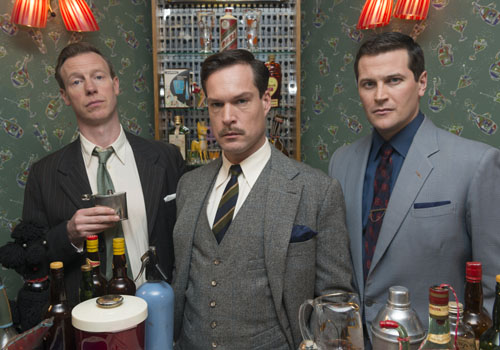 Between making tea and doing filing in her actual broom closet of an office, Dawson gets involved in a decades-old case involving two missing boys and the investigation into the nighttime attack of a young woman — the two main storylines of the first series.
The first case was supposedly solved by Chief Superintendent Arthur Coulson (John Bowler, The Bill) when he was a sergeant 30 years ago, and he is outraged that DI Burns is reinvestigating after a skeleton found in an abandoned mine is confirmed to be that of one of the boys. But what of the other, whose body was never found? Burns tasks Dawson with doing research for the case, and the information she finds leads them to question people who knew both boys, including someone tied to another disappearance.
The second revolves around the attack of Sylvia Stewart (Sarah Beck Mather, World Without End), a young white woman whose walk home through Victoria Park ended in her being accosted at knifepoint and left unconscious. The accused is Donald Palmer (Akemnji Ndifernyan, Doctors), a Jamaican man whom Dawson recognizes as the nice ticket-taker on the bus. Despite being roughed up by Fenton and thrown under the bus, as it were, by Stewart, Palmer maintains his innocence. Dawson believes him, and when other victims come forward, Fenton puts her in a dangerous situation to nab the attacker.
Much as he might resent it, Fenton does give Dawson credit, notably when it is her quick-thinking that saves the life of PC Eddie Coulson (Chris Overton, Hollyoaks), son of CS Coulson, and they end up pairing up to find the Tommy Boy who knifed one of their own.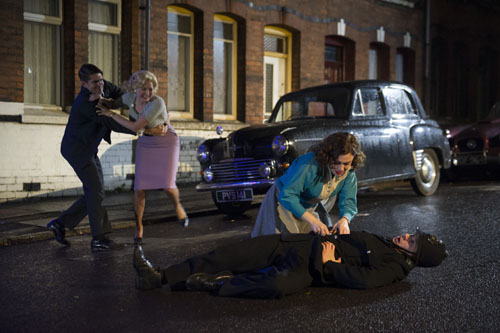 Things aren't hunky-dory outside of work, either. Dawson, who lives with her parents, has to deal with the constant criticism of her mum and growing boredom with her boyfriend, Frank Marshall (Philip Hill-Pearson, Shameless). Burns doesn't know what to make of the increasingly erratic behavior of his wife, Deborah (Marianne Oldham, The Crimson Field). Desk Sergeant Pratt (Gerard Horan, Kingdom) can't talk sense into his son, Sam (Tom McLarney, Doctors), a petty criminal who runs with a gang of Tommy Boys. And police secretary Cathy Sinclair (Justine Michelle Cain, Edge of Heaven) finds out the hard way that her beau, Billy Pearson (Jack Derges, Holby City), is abusive.
Costars in the five episodes of WPC 56: Series 1
include Jonty Stephens (Minder) and Kathryn Hunt (Coronation Street) as Gina's parent, Joe and Brenda Dawson; Tim Plester (Murphy's Law) as petty thief and Fenton's informant, Linus Brody; and Martha Howe-Douglas (Horrible Histories) as Fenton's wife, Abigail.
In Series 2,
DI Max Harper (Ben Turner, Casualty) arrives from London to replace Burns, who is leaving the Brinford Police to care for his children and sick wife. And since PC Coulson and bride Cathy Sinclair are honeymooning, PC Tommy Perkins (newcomer Liam Jeavons) and new secretary Susie Nightingale (Rachel Leskovac, Coronation Street) work in their stead under the watchful eyes of Chief Inspector Walter Briggs (Mark Healy, Family Affairs) and Desk Sergeant John Swift (James Barriscale, The Bill).
While making inquiries at a traveling carnival about a runaway teen girl, WPC Dawson questions a couple who, unbeknownst to her, is being followed by two shady characters. She later recognizes the man, Councillor Daniel Pembroke (Nigel Lister, The Bill), after his dead body is found in Rebecca Jones' (Jessica Duncan, Les Misérables) apartment.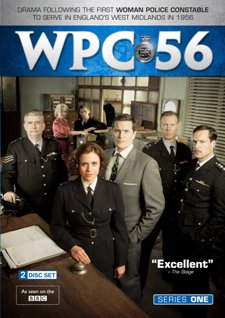 DI Harper must locate the now-missing Rebecca in order to find out why Pembroke was killed and what linked him to the Sapphire Club and owner Lenny Powell (Michael Higgs, EastEnders). Since young, attractive women are a big draw for the club, Dawson goes undercover again as "Ruby," a new hire by club manager Chris Hutton (Danny Szam, Borgia), who is more than he appears to be.
Powell, a powerful, ruthless gangster, is no stranger to Fenton or Fenton's paramour, Rosie Turner (Emma Cooke, Grafters), who happens to run Powell's brothel. Or to Mike Maddock (Nigel Travis, Peaky Blinders), whose boxing comeback is disastrous.
In other matters, the police must find and stop whoever is responsible for the spread of fake ten-pound notes in Brinford; a police raid on a gay bar nets trouble for a senior officer; Swift is concerned about Susie's new romance; and Coulson, now Assistant Chief Constable, escalates his ill-intentioned actions toward Dawson.
The second five-episode series ends with a cliffhanger, so we'll have to wait for Series 3 to find out what happens. (The third series is due to screen on BBC One later this year, and hopefully in the US in 2015.)
While most of the stations in the US will likely broadcast WPC 56 in the evening, it is a daytime show on BBC One, so it isn't as gritty or hard-hitting as, say, BBC Two's primetime crime serial, Line of Duty. Its flavor is more akin to Father Brown, another BBC daytime mystery set in the '50s that has been a hit with stateside viewers. Like it, WPC 56 is much lighter on violence and foul language and has enough intrigue and tension-filled moments to move stories along and hold onto viewers. Plus, the snazzy costumes and a hip soundtrack add to the '50s ambience. But the thrill of WPC 56 is in getting the lowdown on post-war police work through the characters of Dawson and Fenton, played brilliantly by Jacques and De'Ath.
Said Dominique Moloney, WPC 56 creator and writer, "The fact that women police were treated as an isolated section of the police force meant that even when they worked alongside the men, their ranks and responsibilities were considered separate… No matter what her rank, a female officer in Gina's time was expected to do the typing for even the lowliest male colleague… [and] making tea for the men was simply part of the job!"1
WPC 56
will premiere in the US on these public TV stations starting 1 November 2014. Check your local listings or contact the station that serves your area for dates and times.
| STATE | CITY | STATION |
| --- | --- | --- |
| CALIFORNIA | San Diego | |
| CALIFORNIA | San Francisco, San Jose, Monterey, Salinas, Watsonville | |
| DISTRICT OF COLUMBIA | Washington, DC | |
| FLORIDA | Miami-Ft. Lauderdale-West Palm Beach | |
| FLORIDA | Tampa | |
| IDAHO | Boise, Coeur d'Alene, Moscow, Pocatello, Twin Falls | |
| LOUISIANA | Alexandria, Baton Rouge, Lafayette, Lake Charles, Monroe, Shreveport | |
| MONTANA | Billings, Bozeman, Great Falls, Kalispell, Missoula | |
| NEW YORK | Rochester | |
| NEW YORK | Watertown, Norwood | |
| OKLAHOMA | Cheyenne, Eufaula, Oklahoma City, Tulsa | |
| OKLAHOMA | Tulsa | |
| TEXAS | Dallas | |
| WISCONSIN | Milwaukee | |
1 Source: BBC
__________________
Add your comments on our Facebook, Google+, and Twitter pages.
WPC 56: UK Detective Drama Makes US Debut on Local Public TV Stations