RLJ Entertainment's Acorn brand, coined "chief curators of the best Brit TV" by Time magazine, has picked up the electronic-sell-through (EST) and DVD rights to the hit AMC/Channel 4/Kudos sci-fi drama Humans for North America.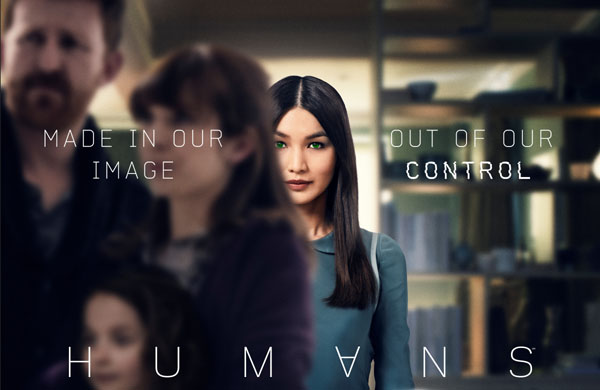 Based on the award-winning Swedish drama Real Humans, Humans premiered in the UK on Channel 4 on 14 June 2015, and broke ratings records for the broadcaster by garnering a consolidated audience of 6.15 million — the channel's highest-rated original drama in 20 years.
Humans made its US premiere on AMC on Sunday, 28 June 2015, with next-day availability on Mondays for download on multiple platforms, including Amazon Instant Video, Google Play, iTunes, Vudu,
Xbox Video, and Sony Entertainment Network.
The launch date for Acorn's digital distribution of Humans via its Acorn TV subscription video-on-demand service has not been announced yet, but Acorn is scheduled to release Humans on DVD in the first quarter of 2016.
The all-star cast of Humans includes Oscar® winner William Hurt (Kiss of the Spider Woman), BAFTA TV award winners Katherine Parkinson (The IT Crowd) and Rebecca Front (The Thick of It), Olivier award winner Tom Goodman-Hill (Mr. Selfridge), Gemma Chan (Fresh Meat), Colin Morgan (Merlin), and Neil Maskell (Utopia).
Written by the team of Sam Vincent and Jonathan Brackley (MI-5), Humans is set in a parallel present where the latest must-have gadget for any busy family is a Synth — a highly-developed robotic servant eerily similar to its live counterpart. In the hope of transforming the way they live, one strained suburban family purchases a refurbished synth only to discover that sharing life with a machine has far-reaching and chilling consequences.
Humans continues this Sunday, 12 July 2015, at 9 PM ET on AMC (US), and 9 PM BST on Channel 4 (UK).
__________________
Add your comments on our Facebook, Google+, and Twitter pages.
Share this post/page.

Acorn Acquires Digital Distribution and DVD Rights for Hit Brit Sci-Fi Series Humans