Post-apocalyptic sci-fi- meets romcom in Cockroaches, the ITV comedy that is now streaming in the States.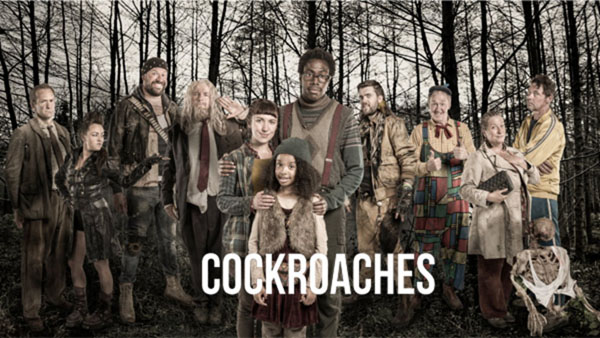 Back in January, I suggested that Cockroaches would be "a perfect addition to Hulu's library of dark British comedies and shows for millennials." Well, whaddya know. It is now.
With the news that nuclear bombs will be dropping on four world capitals, including London, teens Tom (Daniel Lawrence Taylor, Hunderby) and Suze (Esther Smith, Skins) reckon it's the end of the world. So for their last hurrah on Earth, they have sex.
Then they survive. (Awkward.)
Fast forward nine years, when the pair, with their daughter Laura, are roaming through the wasteland of the countryside formerly known as Britain. It's boring.
Until they run across another group of survivors, one led by Suze's ex-boyfriend Oscar (Jack Whitehall, Fresh Meat). It's been ages since these two have seen each other, and in that time, Oscar has grown even more insufferable and downright mad, and has also taken to speaking with a Jamaican accent.
It's not an ideal situation for the jealous Tom, but hey, at least there's food at Oscar's survivors' camp.
As Tom and Suze soon discover, there are more nutcases at the camp than just Oscar. Such as the mad-as-a-hatter former Prime Minister (Robert Bathurst, Downton Abbey), and The Doctor (Alexander Armstrong, Hunderby), the perverted, cannibalism-promoting medic not related to the time-travelling Doctor.
But it's not all bad, either. Bumbling giant Felix (Tom Davis, Plebs) becomes best friends with little Laura, whom Suze just wants to have a normal childhood despite the circumstances. To this end, Suze even takes on being a teacher for the camp's children.
Well, that is until food supplies start running low, Tom and Suze's new tribe is attacked by marauders, and two members are abducted.
Guest stars include Nigel Planer (Episodes) as the racist cannibal Stevie; Caroline Quentin (Blue Murder) as Cathy, Suze's divorced mum, now a swinger; Rich Hall (Not Necessarily the News) as Pete, Tom's bully of a former gym teacher and Cathy's new man; and Jaime Winstone (Dead Set) as Ash, who turns out to be more than she appears.
Cockroaches is now streaming in the US exclusively at Hulu Plus.
__________________
Add your comments on our Facebook, Google+, and Twitter pages.
Share this post/page.

Cockroaches: Black Comedy Britcom Now Streaming in the US