"What the Dickens!" Hold on there, Mrs. Maguire. This is good news! Shooting is about to begin on the second series of the hit mystery Grantchester.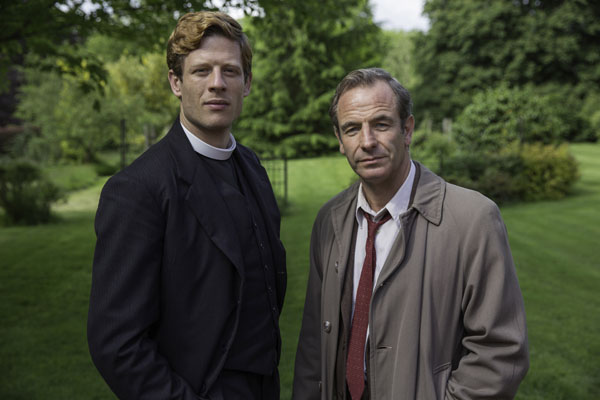 Fans of Grantchester, it's time to do your happy dance, because James Norton (Happy Valley, Death Comes To Pemberley) and Robson Green (Strike Back, Wire In The Blood) are reprising their respective roles — as Sidney Chambers, the charismatic, charming, crime-fighting clergyman, and his partner in crime, Police Inspector Geordie Keating — for another series of murder mysteries.
And Grantchester wouldn't be Grantchester without the talents of Tessa Peake-Jones (Marchlands, Only Fools and Horses), who will don her housecoat once again as Sidney's indomitable housekeeper Mrs Maguire, and Morven Christie (Hunted, From There To Here), who will be back as Sidney's glamorous friend Amanda.
Also returning to the mystery drama are Kacey Ainsworth (EastEnders, The Wright Way) as Geordie's wife Cathy, Al Weaver (Southcliffe, Sherlock) as curate Leonard Finch, and the gorgeous black Labrador Dickens.
Series 2 of Grantchester opens in 1954, a year after Geordie was shot while on duty. While he appears to have put this behind him, he feels quite vulnerable underneath his carefree exterior, and this puts a strain on his relationship with Cathy and his friendship with Sidney.
However, Geordie makes it his mission to find a woman for the still-single Sidney, but the handsome vicar clearly still has eyes only for Amanda, who was about to marry his rival, Guy, when we last saw her.
Personal matters aside, Sidney and Geordie have to face up to the consequences of becoming such an accomplished crime-fighting duo — especially Sidney, since tending to his duties as the small village's vicar is becomes increasingly difficult with his unofficial side gig of investigating murders.
The six new episodes of Grantchester will be filmed in London, Cambridge, and the picturesque Cambridgeshire village of Grantchester.
Based on "The Grantchester Mysteries" by novelist James Runcie, and co-produced by Lovely Day and MASTERPIECE for ITV, the second series of Grantchester is due to transmit on ITV in 2016. It will likely premiere on PBS' MASTERPIECE Mystery next year, as well.
Stay tuned for updates.
__________________
Add your comments on our Facebook, Google+, and Twitter pages.
Share this post/page.

Grantchester: Filming Set to Start on Second Series