'Tis much ado about Globe On Screen, because its 2014 North American Season brings Roger Allam, Stephen Fry, Mark Rylance, and other British screen and stage actors in Shakespeare productions to select cinemas in the US and Canada starting next week.

"The play's the thing." Six plays by The Bard, actually. Twelfth Night, Henry V, The Taming of the Shrew, The Tempest, Macbeth, and A Midsummer Night's Dream — performed live and filmed for the Shakespeare's Globe theatre's Globe on Screen series, which begins its new season in the US next Tuesday.
All performances were captured in high definition and will be screened in their entirety in digital cinema quality, with full 5.1 surround sound, giving you the opportunity to experience each play as if you are at the Globe in person.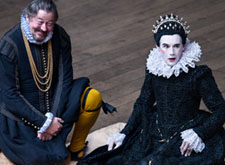 Twelfth Night
"Rapturous! Mark Rylance gives one of the most astonishing Shakespearean performances I've ever seen." — The New York Times
Comedy, cruelty, and unforgettable characters fill Shakespeare's play of loss, love, and mistaken identities. Originally performed at the Globe in 2012, this all-male Original Practices production of Twelfth Night transferred to Broadway for 16 weeks and was nominated for seven Tony Awards, including Best Revival of a Play.
Three-time Tony Award winner Mark Rylance (The Other Boleyn Girl) won for his performance as Olivia, and Tony Award nominee Stephen Fry (Kingdom) marked his return to the stage after 17 years in the role of Malvolio.
Twelfth Night begins screening in select US cinemas on 16 September 2014.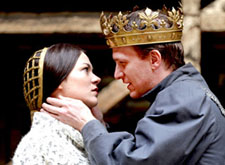 Henry V
★★★★
"Bold and entralling" — The Times
The final work in Shakespeare's Henriad plays, Henry V is a masterful tale of war and peace, in which the charismatic king campaigns to recapture English possessions in France.
Jamie Parker (The History Boys), who had starred as Prince Hal in the Globe's 2010 productions of Henry IV Parts 1 & 2, returned to continue Hal's journey as King Henry V.
Henry V begins screening in select US cinemas on 30 September 2014.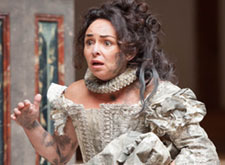 The Taming of the Shrew
★★★★
"A laugh out loud production" — Time Out
An outrageous comedy, The Taming of the Shrew introduces one of theatre's screwball double-acts — the wild, ungovernable shrew Katherina and the strong-willed, perverse gold digger Petruchio — a couple bent on confusing and outwitting each other right up to the play's controversial conclusion.
This production stars Samantha Spiro (Murder Investigation Team) as Katherina and Simon Paisley Day (Titanic) as Petruchio.
The Taming of the Shrew begins screening in select US cinemas on 14 October 2014.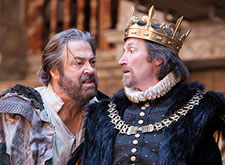 The Tempest
★★★★
"Spellbinding" — The Telegraph
In Shakespeare's magical and supernatural tale of forgiveness, generosity, and enlightenment, the eponymous tempest is a storm raised by the exiled Prospero, the rightful Duke of Milan, to shipwreck his power-usurping brother on the enchanted isle.
Double Olivier Award-winner Roger Allam (Endeavour) stars as Prospero, and Colin Morgan (Merlin) as his spirit, Ariel.
The Tempest begins screening in select US cinemas on 28 October 2014.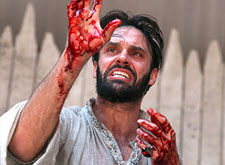 Macbeth
"Marvellous" — The Observer
"Something wicked this way comes" in "the Scottish play," and "the evil that men do" — murder — in fulfillment of three witches' prophecies lead to guilt, paranoia, madness, and ultimately the antihero's death.
Joseph Millson (Casino Royale) leads the cast as Macbeth, with double Olivier Award-winner Samantha Spiro costarring as Lady Macbeth and Billy Boyd (The Lord of the Rings trilogy) as Banquo.
Macbeth begins screening in select US cinemas on 11 November 2014.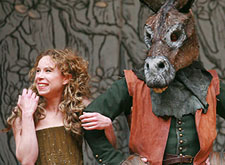 A Midsummer Night's Dream
★★★★
"A hearty and hilarious night" — Time Out
In this Shakespeare comedy, the Bard's dramatic poetry weaves three tales of Athenians, fairies, and mechanicals into one hilarious play filled with woodlands, wanna-be lovers, and weddings.
Olivier Award-winner Michelle Terry (The Café) stars in the dual roles of Titania, Queen of the Fairies, and Hippolyta, Queen of the Amazons.
A Midsummer Night's Dream begins screening in select US cinemas on 4 December 2014.
Tickets are now available and can be purchased at the Globe on Screen website.
If cinemas near you are not presenting the Globe On Screen series, you're in luck, because all six of the plays are available on DVDs that are playable in all regions.
Twelfth Night (Globe on Screen)
Henry V (Globe on Screen)
The Taming of the Shrew (Globe on Screen)
The Tempest (Globe on Screen)
Macbeth (Globe on Screen)
A Midsummer Night's Dream (Globe on Screen)
__________________
Add your comments on our Facebook, Google+, and Twitter pages.
Globe On Screen in the US: Roger Allam, Stephen Fry, Mark Rylance Performing Shakespeare