Your prayers have been answered, Brit TV fans, because the third series of the hit mystery series, Father Brown, begins screening on public television stations this month.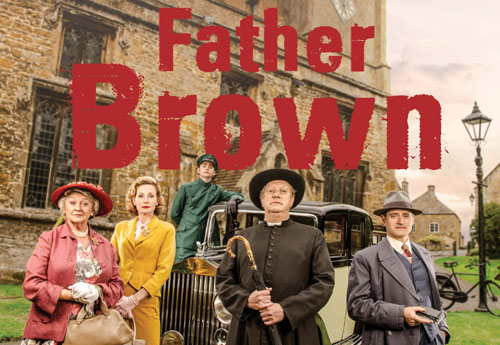 As mentioned in the post about the Father Brown: Saving Souls, Solving Crimes behind-the-scenes special, the third series of Father Brown is set to screen on public TV stations across the US.
Unlike the first two series, which had ten episodes each, Father Brown: Series 3
includes fifteen. More stories mean more murder mysteries for the good padre (Mark Williams) to solve, more souls for him to save, and more guest stars for us to see, including John Light (WPC 56), who returns as Father Brown's devilish adversary, Hercule Flambeau.
Series 3 opens with "The Man in the Shadows," in which Lady Felicia (Nancy Carroll) is haunted, and both Inspector Sullivan (Tom Chambers) and Sergeant Goodfellow (John Burton) are taunted, by an MI5 spook from her past. Undaunted are Father Brown and Sid (Alex Price), who investigate a suspicious death. Guest stars include Daniel Flynn (The Bill), Florence Hall (Holby City), and Christopher Webster (DCI Banks).
In "The Cure of Amenhotep," it seems Sir Raleigh's (Nicholas Farrell, Secret State) Egyptian mummy does have a curse, after his new bride (Poppy Corby-Tuech, The Royals) is found dead. Father Brown, though, suspects foul play. Geraldine Alexander (Shetland), David Bamber (Rome), and Josh O'Connor (Ripper Street) guest star.
The circus comes to Kembleford in "The Invisible Man," and so does murder when a clown kicks the bucket, as it were. The killer could be the sinister hypnotist (Guy Henry, New Worlds), but more puzzling to Father Brown is why his parishioner (Justine Cain, WPC 56) agreed to marry the creep. Amongst the guest stars are Sevan Stephan (Bleak House), Joe Layton (Tatau), and Kobna Holdbrook-Smith (The Café).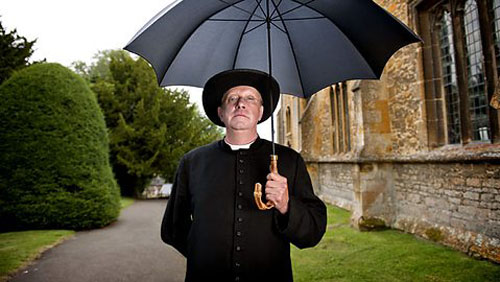 "The Sign of the Broken Sword" is one clue that Father Brown uses to solve the mysteries of a murder at the local army barracks and another death at Dunkirk more than a decade ago. William Ash (Waterloo Road), Jamie Ballard (A Poet in New York), Grace Cassidy (Emmerdale), Steven Miller (Casualty), Craig Whittaker (Law & Order: UK), and Angus Wright (The Way We Live Now) guest star.
In "The Last Man," the cricket pitch is at stake in the annual match, Kembleford's new cricket captain (Abhin Galeya, Silent Witness) is framed for murder, and Father Brown must pitch in to save the man and the match. Guest stars include Perdita Avery (Midsomer Murders), Tom Chadbon (Agatha Christie's Poirot), Darrell D'Silva (Criminal Justice), Haydn Gwynne (Inspector Lewis), and Robbie O'Neill (Jonathan Strange & Mr Norrell).
One of the more humorous episodes is "The Upcott Fraternity," which finds Sid going undercover as (wait for it) a priest in training in order to help Father Brown prove that the apparent suicide the padre witnessed was anything but. Amongst the costars are Dudley Sutton (Lovejoy) and Tim Treloar (Midsomer Murders).
Life imitates art in "The Kembleford Boggart" when an author's (Nathalie Buscombe, New Tricks) father (Simon Williams, The Bletchley Circle), is killed in the same manner as the murder in her novel, and Father Brown must prove the innocence of the secretive prime suspect (Philip McGinley, Game of Thrones).
Shades of an Agatha Christie story color "The Lair of the Libertines," which finds Father Brown, Lady Felicia, and Mrs. McCarthy (Sorcha Cusack) stranded at Hotel Cuba with its proprietor (Ronni Ancona, Last Tango in Halifax) and hedonistic guests. A dead body and ill intentions mean the trio must escape the hotel. Quickly. Guest stars include Rae Baker (Doctors), Ace Bhatti (The Shadow Line), Michael Culkin (Poldark), and Nicholas Le Prevost (Cranford).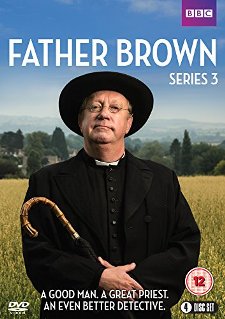 It's less a case of in vino veritas and more one of Father Brown's snooping that reveals the identities of a man's murderer and others associated with Colonel Forbes-Leith's (Daniel Ryan, Mount Pleasant) vineyard in "The Truth in the Wine." Amongst the guest stars are Edward Akrout (Mr. Selfridge) and Sheila Reid (Benidorm).
In "The Judgement of Man," an exhibit of priceless art from the Vatican means Flambeau is up to no good. This time, it isn't just Father Brown that he hoodwinks, and Flambeau means to settle an old score with his heist. Guest stars include James Dreyfus (Mount Pleasant) and Anna-Louise Plowman (Holby City).
Series developers and lead writers Tahsin Guner and Rachel Flowerday get their H.G. Wells on in "The Time Machine," a contraption built by young Jacob (Will Attenborough, The Hollow Crown) to travel back in time and prove that someone in his family murdered his father. Then Father Brown decides to give it a whirl, much to the dismay of Jacob's mum (Alexandra Gilbreath, Monarch of the Glen) and uncle (Mark Lewis Jones, Stella).
The stone circle in "The Standing Stones" isn't at Stonehenge but a polio-stricken village, where a woman is murdered and another human sacrifice is in the offing if Father Brown doesn't put an end to the dark forces at work. Mark Benton (City Lights), Nigel Cooke (Endeavour), and Holly Lucas (The Mill) are amongst the guest stars.
Robbers flee in "The Paradise of Thieves" after Father Brown finds the dead body of the bank manager's (William Gaminara, Silent Witness)'s son-in-law in the locked vault. It's a conundrum he must solve before the accused gets hanged and the killer goes free. Guest stars include Kirsty Besterman (Foyle's War) and Michael Jibson (DCI Banks).
In "The Deadly Seal," Father Brown tries to prevent the assassination of Bishop Talbot (Malcolm Storry, Doc Martin), which the former learned of in the confessional. The thing is, someone else becomes the victim. Bill Buckhurst (Skyfall), Aden Gillett (Inspector Lewis), and Yolanda Kettle (Doctors) guest star.
And lastly, Inspector Sullivan finds himself at the opposite end of the law — and at Father Brown's mercy — after he is charged with murder and goes on the lam in "The Owl of Minerva." Guest stars include Ron Donachie (Game of Thrones), Natasha Little (Breathless), Adrian Scarborough (Upstairs Downstairs), and Jay Villiers (Mr. Selfridge).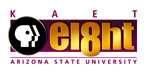 Amongst the public TV stations that are premiering Father Brown: Series 3
this month is KAET in Phoenix, Arizona, which debuts it tomorrow, Thursday, 19 March 2015, at 8 PM MT. For viewers in other areas, check your local listings or contact your local PTV station for details about when the show will screen.
__________________
Add your comments on our Facebook, Google+, and Twitter pages.
Father Brown: Series 3 Set to Return to Public TV Stations