Blessed are those who watch Father Brown: Saving Souls, Solving Crimes, a new behind-the-scenes special about the hit Brit mystery, Father Brown, which features interviews with the cast and crew and premieres on local public TV stations starting this month.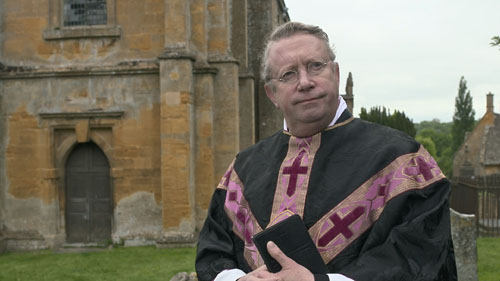 Ditto public television stations. Week after week, they bring some of the best British TV programs to this side of the pond for us to enjoy.
One such program is the lighthearted and humorous, but no less intriguing, mystery series, Father Brown,
 which has been captivating viewers ever since it debuted stateside on public TV stations in the autumn of 2013. Starring Mark Williams (Harry Potter films), the 1950s-set Father Brown revolves around the titular Catholic priest's amateur sleuthing when murders occur in the quaint (fictional) Cotswolds village of Kembleford.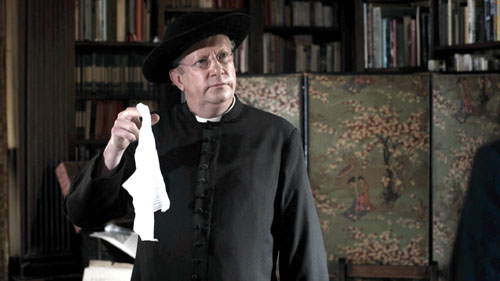 While the detective in charge of the official investigations, be it Inspector Valentine (Hugo Speer in Series 1) or Inspector Sullivan (Tom Chambers from Series 2 forward), might not welcome the good father's assistance, he does acknowledge (often begrudgingly) that crimes get solved because of it. And Father Brown gets help, too, from the padre's cadre of parish secretary Mrs. McCarthy (Sorcha Cusack), local countess Lady Felicia (Nancy Carroll), and her chauffeur and his occasional sidekick, Sid Carter (Alex Price).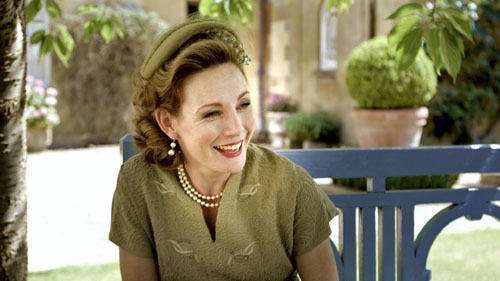 In a few days, devoted fans of Father Brown, as well as those new to the flock, as it were, will have the chance to hear from members of the show's cast and crew when the special, Father Brown: Saving Souls, Solving Crimes, begins airing in many US markets.
Produced and hosted by public and British TV veteran Bill Young, Vice President of Television Programming for PBS member station KERA, Father Brown: Saving Souls, Solving Crimes takes us behind the cameras to give us the inside scoop on Father Brown.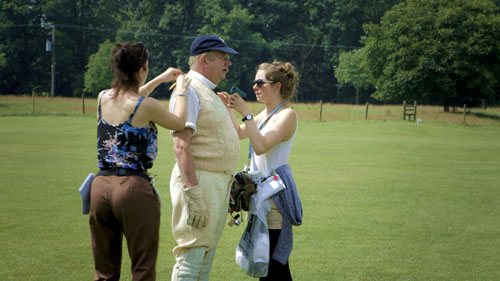 The stars of Father Brown, series developers and lead writers Tahsin Guner and Rachel Flowerday, writer Jude Tindall, and costume designer Giles Gale, all share insider tidbits about the show, from the characters to the costumes and cars.
For example, one of the actors shares that their character doesn't appear in the "Father Brown" stories by G.K. Chesterton
 that the series is based on. Another interviewee states that when a certain something happens, it's a telltale sign that Father Brown is "in big trouble." And Alex Price reveals that "you can't [get out of the Rolls-Royce] elegantly," owing to a particular design of the luxury car, never mind his 6'2″ frame.
(One of my favorite scenes in the special is Tahsin Guner discussing one of the show's characters, whom he laughingly says could return in "in a future episode… discovered at the bottom of Mrs. McCarthy's garden.")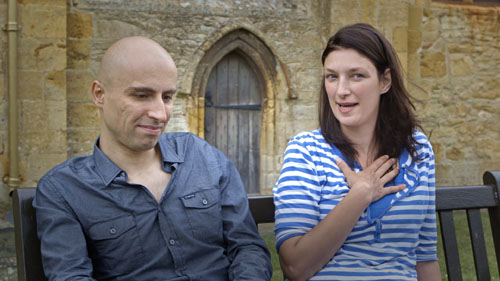 A theme that runs throughout the special is how the cast and crew of Father Brown are like family. While it sounds like the PC thing to say about the show one works on, it's actually true, as evidenced in the authentic off-screen camaraderie that gets transferred on screen. And Bill Young confirmed the show's familial nature. He should know, since he spent nearly two weeks with the Father Brown-ers to film the special.
Shot on location in the Cotswolds during the filming of Father Brown: Series 3, the behind-the-scenes look also features clips from Series 1
and 2
and footage from locations in centuries-old Cotswolds villages and pastoral countrysides. Their beauty is Edenic, but it's the interviews and pledge cutaways — where the actors dish about Mrs. McCarthy's scones, Lady Felicia's scream, Father Brown's soul saving, and more — that make Father Brown: Saving Souls, Solving Crimes such a devilishly fun watch.
[fvplayer src="https://thebritishtvplace.com/wp-content/uploads/2015/03/FATHER-BROWN-SAVING-SOULS-SOLVING-CRIMES-_30-HD-SD.mp4″ width="500″ height="281″ splash="https://thebritishtvplace.com/wp-content/uploads/2015/03/Father-Brown-Saving-Souls-Solving-Crimes-2.jpg"]
Like its namesake program, Father Brown: Saving Souls, Solving Crimes is simply delightful, and it begins airing this month on certain public TV stations. For viewers in North Texas and Southern California, you can watch it this weekend on KERA (Saturday, 14 March, at 7 PM CT) and KCET (Sunday, 15 March, at 9 PM PT), respectively.

(By the way, a special tip of the hat to the good folks at KCET, who made this post happen, from the video and stills to my interview with Bill, who also gets a nod of appreciation. While the context is different, the contribution of both parties to this piece reminds me of how Mark Williams describes the American system of public TV: a "brilliant cooperative model.")

Other stations will broadcast Father Brown: Saving Souls, Solving Crimes in the coming days/weeks/months during their pledge events. To find out if it will air where you are, check your local listings or contact your public TV station. (FYI, the list of stations for Series 1 and 2 of Father Brown is here.)
And lastly, Series 3 begins debuting this month, too (check listings), and Series 4 goes into production this spring or summer. Hallelujah!
__________________
Add your comments on our Facebook, Google+, and Twitter pages.
Father Brown: Saving Souls, Solving Crimes: New Behind-the-Scenes Special Coming to Public TV Stations