Fans of The Wrong Mans get to open Christmas crackers and crack up when the second series of the action-packed comedy-thriller comes to UK and US telly at Christmas time.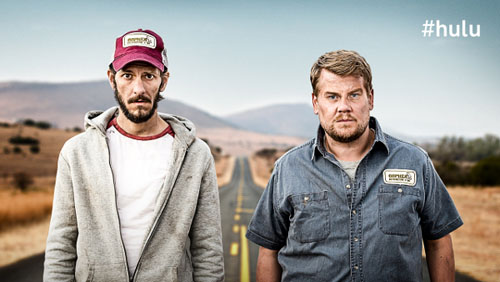 In the "more like a sequel" second series of the award-winning The Wrong Mans,
Mathew Baynton and James Corden, the series' stars, writers, and creators, return as hapless heroes Sam Pinkett and Phil Bourne.
Unlike the case of mistaken identity that had trouble descend on Sam and Phil in the first series, the duo are "the architects of everything that befalls them" in Series 2.
Presumed dead and 4,000 miles from home, Phil relishes the chance to reinvent himself while Sam pines for his old life. But distressing news from back home forces them to make a difficult choice: hide in the shadows and be forgotten forever, or get home to Bracknell in time for Christmas and reclaim their lives.
Either way, they must first bust out of the high-security Texas jail they're imprisoned in.
The stakes are higher and the pair faces deeper, darker danger, as they trek across deserts and speed through tunnels while embarking on an international quest to once again prove that they are The Wrong Mans.
Series 2 of The Wrong Mans
debuts in the UK on BBC Two at Christmas on Monday, 22 December, and in the US exclusively on Hulu/Hulu Plus on Christmas Eve.
__________________
Add your comments on our Facebook, Google+, and Twitter pages.
The Wrong Mans: Comedy-Thriller Returns with Series 2 at Christmas [UPDATED]