Grantchester, the new mystery drama that became a quick hit with UK viewers, has been recommissioned for a second series by ITV. (Yay!)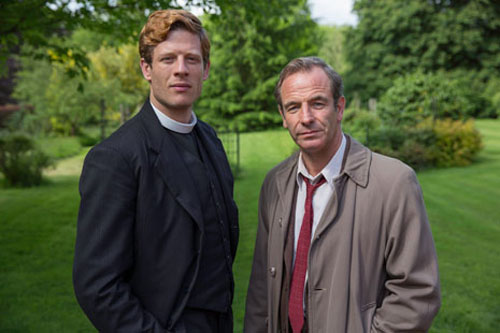 Based on the popular "Grantchester Mysteries" novels by James Runcie,
 the series stars James Norton as the charismatic and charming clergyman, Sidney Chambers, and Robson Green as his plain-talking, down-to-earth crime-fighting partner, Police Inspector Geordie Keating. Together the unlikely friends and detective duo investigate murders and other mysteries in and around the beautiful Cambridgeshire hamlet of Grantchester in 1953.
Grantchester was a hit with viewers when it premiered on ITV last month, debuting to an impressive consolidated average of 6.6 million viewers and 24 share. Said ITV Director of Drama, Steve November, who commissioned the new series with ITV Controller of Drama, Victoria Fea, "We received a tremendous audience reaction to Grantchester. It was so well received, so it was an easy decision to commission a new series."
Daisy Coulam (EastEnders, Casualty), who adapted the first series, will pen the second series' scripts from the stories within Runcie's second "Grantchester Mysteries" novel, Sidney Chambers and the Perils of the Night.
A co-production of Lovely Day and MASTERPIECE for ITV, and executive produced by Lovely Day's Managing Director and founder Diederick Santer (Cutting It, Jane Eyre), the new episodes of Grantchester will begin filming in London and the village of Grantchester in 2015, and casting details will be announced in the coming months.
Viewers in the US will be able to see Grantchester when it premieres on PBS Masterpiece on Sunday, 18 January 2015, at 10 PM ET.
More at: "Brit TV on PBS in 2015: New Programs and New Seasons of Viewer Favorites"
__________________
Add your comments on our Facebook, Google+, and Twitter pages.
ITV Commissions Second Series of Grantchester