Finally! Sharpe, the brilliant historical drama starring none other than the fabulous Sean Bean (Sean Bean!), is now available for streaming in the US.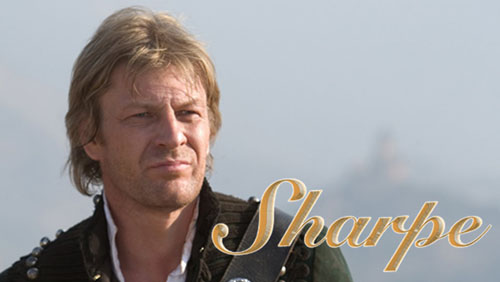 Well, some of the drama, anyway. The final two stories, to be precise. Sharpe's Challenge
and Sharpe's Peril.
Unlike the earlier two-part episodes of the long-running "Sharpe" series, which screened on ITV and PBS Masterpiece, Sharpe's Challenge and Sharpe's Peril are not adapted from the bestselling "Sharpe" novels by Bernard Cornwell.
However, their storylines do hearken back to certain events and people from the hero's past.
Said hero is Richard Sharpe (Sean Bean, Game of Thrones, Legends), a former British soldier and officer in the Napoleonic Wars, who retired to France as a farmer following the Battle of Waterloo.
Sharpe's Challenge
Sharpe's Peril
In Sharpe's Challenge, Lieutenent Colonel Sharpe is called out of retirement by his former commander, the Duke of Wellington (Hugh Fraser, Agatha Christie's Poirot), and tasked with finding Sharpe's friend and former comrade-in-arms, Regimental Sergeant Major Harper (Daragh O'Malley, Camelot), who went missing in India while searching for a turncoat officer.
Sharpe's Peril picks up where Sharpe's Challenge left off, and follows Sharpe as he takes command once again while fighting his way back home.
Sharpe's Challenge
and Sharpe's Peril
are now streaming exclusively at Hulu Plus.
__________________
Add your comments on our Facebook, Google+, and Twitter pages.
Sean Bean in Sharpe, Now Streaming in the US