Even though the hit Britcom Outnumbered has completed its run in the UK, more laughs are in store for US viewers when the fifth and final series debuts stateside next month.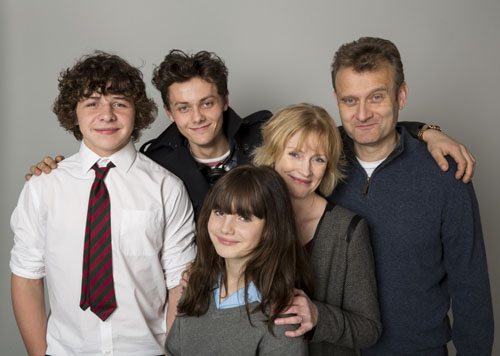 A family-focused comedy like no other, Outnumbered
won multiple awards and amassed millions of fans over its five series, and for good reason: Its part-scripted, part improvised depiction of the realities and banalities of daily family life is hilarious.
When the Brockman family returns to US screens in a couple of weeks, we find that some things have changed while others have stayed the same. Dad Pete (Hugh Dennis) is working on a novel and mum Sue (Claire Skinner) has a new PA job. Between unwanted houseguests, missing keys and Oyster cards, and streams of calls, texts, and missed messages, they still do their best to raise and encourage their three children and to stay calm in the midst of chaos. It ain't easy.
Eldest son Jake (Tyger Drew-Honey) is 17 and soon to enter uni. Or not, since he has yet to decide about a gap year or to submit his uni application. He is positive, though, that he is better equipped at parenting than his parents, that his new tattoo is cool, and that he can surreptitiously hang out with different girls with no problems whatsoever.
Middle child Ben (Daniel Roche) has grown, literally and figuratively. Now 13 and huge for his age, he has outgrown his habit of pathological lying, but not of slamming the front door. New interests include the subject of psychology and Pete's Australian goddaughter, but his primary focus is on his lead role in his school's musical production of Spartacus.
And 11-year-old Karen (Ramona Marquez), now a rather sullen and brunette pre-teen, is having a difficult time adjusting to and making friends at secondary school. But she is as opinionated and single-minded as ever, whether in her grievances about the school and faculty or her obsession with finding Tommy, her hamster that went missing months ago.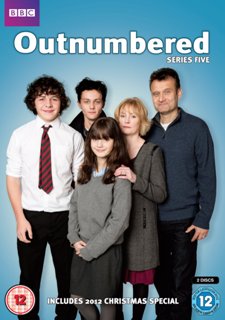 If all that sounds a bit banal, it's supposed to. But that's where the brilliance of the improv part of Outnumbered comes in. Rather than reciting scripted dialogue, the kids get to say what comes naturally, and they really do say the darndest, funniest things.
Additional cast members in Series 5 include Samantha Bond (Downton Abbey), who reprises her role as Sue's sister, Angela, and guest stars Cliff Parisi (Call the Midwife), Rebecca Front (Inspector Lewis), Emily Berrington (24: Live Another Day), and Harry Shearer (The Simpsons).
Outnumbered: Series 5
premieres in the US on Monday, 3 November 2014, at Acorn TV, which also begins screening Series 1-4 on the same date.
__________________
Add your comments on our Facebook, Google+, and Twitter pages.
Outnumbered: Hit Britcom's Final Series to Screen in the US