Yes, we've missed him. Both hims. Sherlock and Watson. And today the BBC announced that, indeed, Sherlock will return to screens with a special and three new episodes.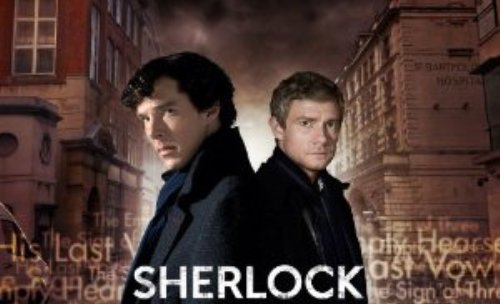 Put your deerstalker caps and capes on and do your 221B Baker Street happy dance, because more mystery and mayhem as only one high-functioning sociopath can muster will thrill us in four more outings when Sherlock returns for a special and a series of three new episodes.
Said series co-creator, writer and executive producer Steven Moffat:
"A special, plus a new series of three episodes – it's a record-breaking run! Of course, it's far too early to say what's coming, but we're reasonably confident that the very next thing to happen to Sherlock and John, is the very last thing you'd expect…"
Well, let's see. In the third series,
Sherlock gave us his own version of "shock and awe" when he returned from the dead, pulled off a best man speech like no other at the wedding of John Watson and Mary Morstan, and met his mind-palace match in Charles Augustus Magnussen.
Will the mystery of Moriarty's face being broadcast on every telly be the case of all cases for Sherlock in Series 4?
Mark Gatiss, series co-creator, writer and executive producer, added:
"Series Four! At last ! It's always special to return to Sherlock but this time it's even more special as we're doing… a Special! Not only THAT, we'll then be shooting three more episodes which will take Sherlock and John Watson into deeper and darker water than ever before. The whole Sherlock team are terrifically excited to return for four new adventures. The Game is on – again!"
Hurrah!
For production company Hartswood Films, Executive Producer Sue Vertue said:
"It's taken a little while to get the dates sorted as none of the boys are exactly sitting back twiddling their thumbs but there was unanimous goodwill to make this work, so we're thrilled that 221b is going to be inhabited again."
And from the BBC…
"It's a very good day in the life of a BBC One Controller when you can announce Sherlock will return for a special plus a new three-part series. Massive thanks to Sue Vertue and Hartswood Films for pulling this off, it's no mean feat pinning down some of this country's most brilliant and in-demand actors and writers." — Charlotte Moore, Controller, BBC One

"Steven and Mark are ready to unleash the most shocking and surprising series of Sherlock yet. The only thing to expect is the unexpected…" — Ben Stephenson, Controller, BBC Drama
Inspired by the works of Sir Arthur Conan Doyle, Sherlock is written and created by Steven Moffat and Mark Gatiss; produced by Sue Vertue and executive produced by Beryl Vertue, Mark Gatiss and Steven Moffat for Hartswood Films, Bethan Jones for BBC Cymru Wales and Rebecca Eaton for Masterpiece; and commissioned by Charlotte Moore, Controller, BBC One and Ben Stephenson, Controller, BBC Drama.
Shooting on the special will begin in January 2015, with the series shooting later next year.
___________________________
Confirmed: Sherlock Will Return