Orange isn't the only new black. For crime drama fans, there's noir. And as of today there's the US DVD for Hinterland,
the series called a "no-holds-barred gritty thriller" by the Western Mail and hailed as "the Welsh Killing" by The Telegraph (UK).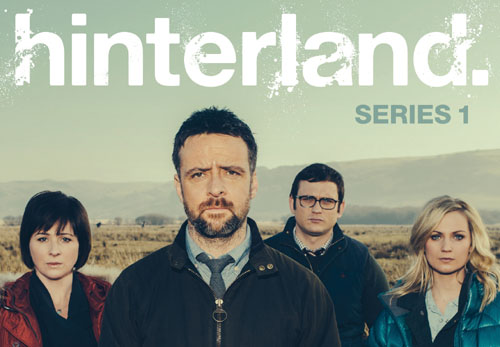 Sweden has Wallander, Denmark has The Killing, and both lay claims to The Bridge. Now viewers in the US can add Wales with its Hinterland
to the list of countries whose noir programs have turned rote police procedurals into dark, dread-filled detective dramas.
Filmed in both Welsh-only and Welsh/English versions in the coastal town of Aberystwyth and the surrounding Ceredigion region of West Wales, Hinterland (Y Gwyll or The Dusk in Welsh) does what noir does best: give viewers a solid sense of place by making the setting an uncredited character. Here the vast, stark, bleak, harsh, yet beautiful terrain is ominous, the perfect setting for brutal crimes.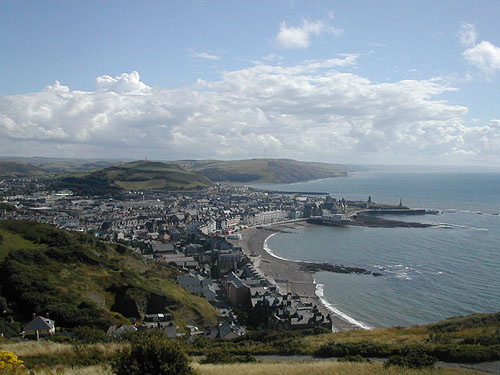 Hinterland stars Richard Harrington (Bleak House, MI-5) as DCI Tom Mathias, a new arrival to the Aberystwyth Police from The Met in London, whose brilliant detective mind, brooding nature, and solitary life lived inside a caravan in the middle of nowhere could give Kurt Wallander a run for his krona.
In Series 1, Mathias and his team — DI Mared Rhys (Mali Harries, Foyle's War), DS Sian Owens (Hannah Daniel, Casualty), and DC Lloyd Ellis (Alex Harries, Torchwood) — work under Chief Superintendent Brian Prosser (Aneirin Hughes, Judge John Deed) to solve four mysterious cases in Aberystwyth's tight-knit, closed-mouth villages.
It's Mathias' first day on the job in "Devil's Bridge," and he hasn't even had a post-jog shower when he is called to the home of Helen Jenkins. She is missing, but blood is everywhere in the bathroom. The investigation leads Mathias to her former residence, an old children's home near Devil's Bridge that has since been converted into a hotel. Devil's Bridge is the stuff of legends and an horrific history, one that ended in murder.
In "Night Music," 69-year-old Idris Williams, an avid photographer, has been murdered at his farmhouse. None of the pictures that Mathias has found include people, save one. In his quests to learn the identity of the person in the photo and find the murderer, Mathias uncovers a family secret stemming from World War II that led someone to kill.
Amateur divers find a young man's body floating in the water at the quarry in "Penwyllt." Naked except for his underwear, Mathias and his team question members of the isolated Penwyllt community to learn who the victim was and why someone wanted him dead. As they delve into the locals' whereabouts and goings-on, Mathias meets Wyn Bratton, another caravan-dwelling loner… and has a second death to investigate.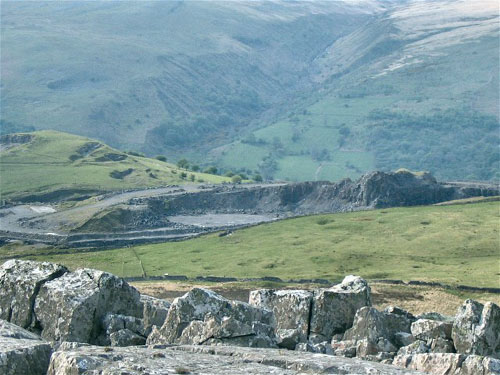 And in "The Girl in the Water," two teens discover in the Borth marshes the dead body of a young woman, Alys Thomas, clad in a red dress and posed in a particular way. Her few friends cared for, even loved, her, so who would have killed her? And how does the myth of Blodeuwedd fit in? Mathias is intent on finding out, but something within him compels him to take actions that could jeopardize the case and his career, if not more.
Beneath the surface of Hinterland's crime stories is an unshakable sense of melancholy made more profound by the desolate and often gloomy landscape in which they take place. And the distance imposed between the show's viewers and its lead character only allows us to infer, not to know, his personal story. We are held at bay, which deepens the mystery of Mathias himself.
Mathias is compassionate toward those who have suffered, and it is easy to discern that he has pains of his own. The returned mail, unanswered calls, and longing in his eyes indicate that he has not chosen to be estranged from Meg, his wife or lover, and the two young girls in the photo, most likely their daughters.  He wants to be closer to them, but can't. We want to get closer to him, but can't.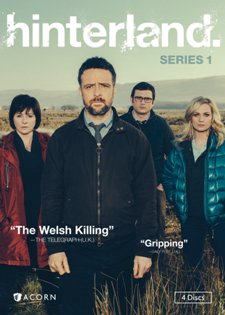 What we can get is riveted to the screen and engrossed in Hinterland, a hit with critics and viewers alike in Wales and across the UK.
The predominantly English (with SDH subtitles) 4-DVD set includes quite a bit of bonus material, including:
On Disc 1: the myth behind Episode 1 (text)
On Disc 4: the myth behind Episode 4 (text); descriptions of the characters, design, and locations; filming in Welsh/English; the Welsh show reel; interviews with Executive producer Ed Thomas about the episodes and the genre; and a Hinterland photo gallery.
Hinterland: Series 1 is available now at the Acorn online store, Amazon.com
and other DVD retailers in the US, and will be a streaming selection at Netflix (release date TBA).
Series 2 of Hinterland is currently in production.
___________________________
Hinterland: Noir Crime Drama, Welsh Style