Ever since the second series of Case Histories aired in the UK in Spring 2013, I and other stateside fans of the mystery series have been waiting for it screen in the US. As of today the wait is over, except it isn't being shown by a broadcast, cable, or streaming channel*; rather, Case Histories: Series 2
makes its US debut on DVD, courtesy of Acorn Media.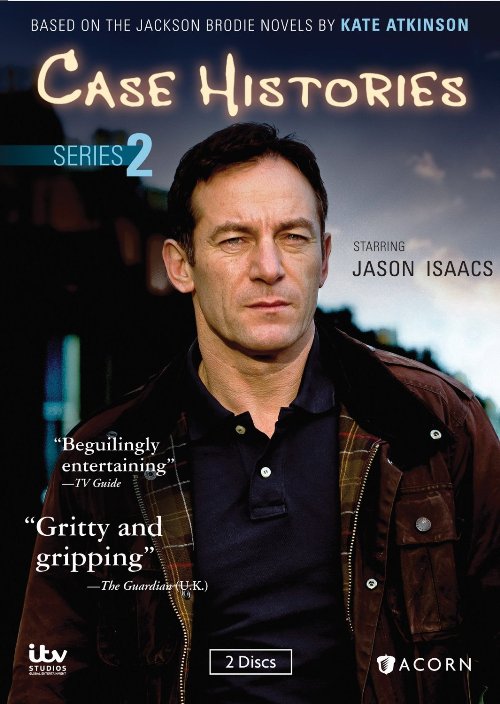 Jason Isaacs (Harry Potter, Awake) is back as Jackson Brodie, Private Investigator. A former cop whose present is filled with unforgotten images of a trauma from his past, images that insinuate themselves into his consciousness. A jogger whose often furious pace inplies a desire, a need, to outrun the memories. A music buff whose playlist is as full of melancholic folk and country tunes as it has ever been.
The second series of Case Histories
brings us three new stories in which Jackson risks what's left of his reputation and relationships, and sometimes even his life, to help those who both ask for and shun his assistance.
"Started Early, Took My Dog"
In the opener of the only Series 2 episode adapted from a Jackson Brodie novel by Kate Atkinson,
Jackson is involved in a kidnapping gone awry in Munich, Germany. (What??) Back home in Edinburgh, Scotland, he is racked with guilt about the abduction, sets his fake passport alight, takes in "The Ambassador," a dog he saves from its abusive owner, and gets a mysterious call from a man advising him not to investigate Carol Braithwaite.
Elsewhere in Ediburgh… Tracy Waterhouse (Victoria Wood, Housewife, 49), a retired cop turned shopping mall security guard, also does some taking in — of Courtney, an abused and unusually quiet girl. DI Louise Monroe (Amanda Abbington, Sherlock), Jackson's former colleague and love interest, is called to the scene where the body of a woman is found in a skip, which Tracy's former partner, the still-on-the-beat Barry (Gary Lewis, Billy Elliot), speculates is the work of a serial killer. And Jackson's assistant Deborah (Zawe Ashton, Fresh Meat) is on her usual rant about money until Hope McMaster (Emma Hamilton, The Tudors) enters the office to hire Jackson to find her birth parents.
Knowing that what he finds, if anything, might not be good news for Hope, Jackson begins digging into the little that is known of her pre-adoption past. As he does, he keeps getting told to let the Carol Braithwaite thing go, even though he hadn't held it to begin with. That mystery deepens even further when a certain someone's henchmen go after Jackson. Then he learns the secret that has been haunting those who have lived in its shadow for 35 years. As for the abduction, Jackson's part in it leads to something good for others, but perhaps not so good for himself.
"Nobody's Darling"
In this first original-script episode, Jackson is surrounded by females, and his life is getting more complicated by the minute because of it. His daughter Marlee (Millie Innes, Dani's House) has returned from New Zealand and is living with him in Edinburgh with her with preteen sense of independence; assistant Deborah is running her own dodgy sideline business under Jackson's company's name; DI Monroe is now married to Dr. Patrick Carter (Paterson Joseph, Law & Order: UK), but apparently still smarting that Jackson didn't try to make a go of it with her; and then there's a new acquaintance, the smart and sexy Charlotte (Dawn Steele, Monarch of the Glen).
On the business front, Rachel Stewart (Michelle Duncan, Lost in Austen) hires Jackson to follow her possibly-cheating fiancé Andy Marshall (Mark Bonnar, Line of Duty). While tailing him, Jackson encounters Andy's suspicious ex-mother-in-law Miriam Baker (Diana Quick, Brideshead Revisited), who also hires the PI to find out if Andy had murdered her daughter Isobel.
Neither of Jackson's new clients is as they appear. And as it turns out, Isobel wasn't the woman they made her out to be, either. Outside of his dual investigations, there are other shenanigans afoot, one that leaves a man dead and Jackson on the opposite side of the interrogation table from DI Monroe and her superior.
"Jackson and the Women"
In the final episode, Deborah has quit and Jackson is hired by teenager Aiden Kelso (Oliver Coopersmith, Holby City) to find out what really happened to his mum; he and his dad Ian (Paul Higgins, Line of Duty) believed for 15 years that she'd been a victim of "the Christmas Killer," but the man didn't include her name in his deathbed confession. No sooner does Aiden leave than Jackson is flooded with memories of the abduction when he gets a call from Minyawi (Emilio Doorgasingh, EastEnders), who wants the PI to find his missing 19-year-old daughter Samira (Gem Carmella, Casualty).
A more enjoyable part of his past pops up when Jackson bumps into his former flame, the now very pregnant Julia Land (Natasha Little, Breathless). (Is Jackson the father?) While she inadvertently helps him to solve the Kelso case, the situation with the missing daughter has become messier and more dangerous — for the girl and for Jackson. Things only get worse for him when he suffers a devastating personal setback.
As the sayings go, the truth will out and the truth will set you free. And it does. For some. For Jackson, it sounds like the Sara Martin song, "Three Chords and The Truth."
Even though the plotlines move from one clue and one drama to the next, there is little about Case Histories that feels linear. It bobs and weaves, similar to the way Jackson Brodie goes through life, even when he isn't involved in any fisticuffs. And that is one of the things that makes this series such a compelling watch. That, plus utterly human characters who trust, hurt, smile, yell, love, run, and act in all the ways people do in life.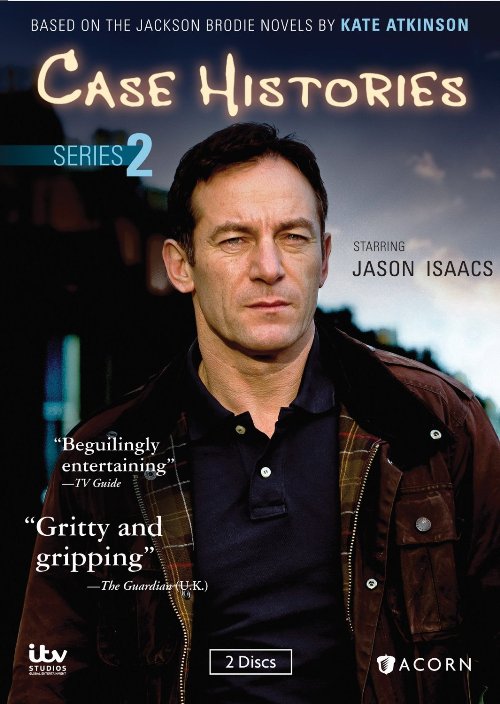 In addition to the three 90-minute episodes, the Case Histories: Series 2
DVD includes an 18-minute behind-the-scenes featurette of clips and interviews with the cast, producer and director, and production interviews with series regulars Jason Isaacs, Amanda Abbingdon and Millie Innes, guest star Victoria Wood, and Executive Producer Helen Gregory.
Case Histories: Series 2 is only available in the US (at this time, maybe ever) on DVD, which you can pick up at Acorn Online, Amazon.com,
and other retailers nationwide.
* UPDATE: Thanks to reader Rus, who sent a note to say that the second series of Case Histories is also available for streaming in the US at Amazon Instant Video.
(If you haven't seen Series 1 of Case Histories,
its three episodes are currently available for streaming exclusively at Amazon Instant Video.)
Case Histories: Series 1 Streaming
Case Histories: Series 2 Streaming
__________________
Add your comments on our Facebook, Google+, and Twitter pages!
Case Histories: Series 2: US Premiere on DVD [UPDATED]