Filming has begun on the fourth series of Scott & Bailey, a two-time BAFTA nominee for Best Drama Series, so it's time to whoop it up because one of our favorite shows of 2013 will be returning to telly in the not-too-distant future. Woo hoo!

With production underway in Oldham and Manchester, Suranne Jones (Unforgiven, Five Days) and Lesley Sharp (Starlings, The Shadow Line) have reprised their roles as two of Manchester's finest — DC Rachel Bailey and DC Janet Scott — as has Amelia Bullmore (Twenty Twelve, Ashes to Ashes) as their no-nonsense boss at Syndicate 9, DCI Gill Murray.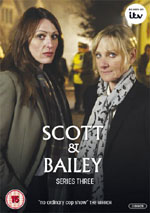 The new series will find both Rachel and Janet vying for the same promotion to Detective Sergeant, something that will test their relationship (again) as colleagues and mates. (As fans may recall, they had the mother of all rows toward the end of Series 3.)
Along with the new story arc is new cast member Danny Webb (Lightfields) in the role of family man DC Chris Crowley. Returning to the show are Danny Miller (Emmerdale) as DS Rob Waddington and Sally Lindsay (Mount Pleasant) as Rachel's sister, Alison. (By the way, Scott & Bailey is based on an idea by Jones and Lindsay.)
Scott & Bailey has been a veritable hit on both sides of the pond. In the UK, audience size grew for Series 3, whose finale garnered an average 7.1 million viewers on ITV. And in the US, the program has been one of the most-watched and talked-about programs that has screened exclusively on local public television stations. (That is until Hulu picked up Series 1
and 2
this past January.)
Said Steve November, ITV's Director of Drama, "ITV Drama without Scott & Bailey would be unthinkable. Its reputation for quality storytelling and great characterisation precedes it and it's become a firm favourite with ITV viewers. We're delighted to be working with Nicola, Sally and RED Production Company on a fourth series."
(The Nicola and Sally he referred to are Nicola Shindler, Director of RED Production Company, which produces Scott & Bailey, and writer Sally Wainwright, who co-created the series.)
Added Shindler, "We're thrilled to be producing a new series of Scott & Bailey. It's rewarding to think the public have become so familiar with the characters and taken them to heart. With this new series, we have the chance to explore great story ideas and continue developing those characters."
The fourth series is comprised of eight new episodes, four of which are scripted by Bullmore, two by former Coronation Street actor Lee Warburton, and the remaining two by writer Emily Ballou (American Blackout, Case Histories).
The premiere date for Scott & Bailey: Series 4 has not been announced yet, and it is too soon to know if and when it will come to the US (fingers crossed), so stay tuned.
—————————
Scott & Bailey: Fourth Series in Production