Rarely does a British program screen in the US ahead of the UK, and the same holds true for Scandinavian shows, too. However, Unit One, the 2002 International Emmy Award® winner for Best Drama, is an exception.
Unlike Borgen or The Bridge, Unit One
(Rejseholdet in Danish) has never screened in the UK. Nordic Noir fans there had to either get the DVDs or miss out on this gripping Danish crime drama.
Not so in the US, because MHz Networks is debuting the first two series (out of four) of Unit One — starting tonight.
Crimes happen across Denmark, and to help local police forces solve them, there's Unit One, an elite mobile police task force. But before the team hits the road in their tricked-out trailer, they have a case to solve at home in Copenhagen: the murders of one of their own, Unit One commander Torben Rønne, and a friend who was temporarily living at his home.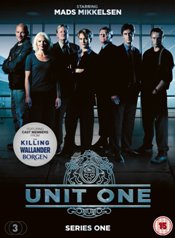 Filling Rønne's suddenly-vacant position and leading the investigation is Ingrid Dahl (Charlotte Fich, Wallander, The Killing), who's been promoted to acting commander. A divorced single mum trying hard to balance work and home life, she must earn the respect and trust of her male boss and mostly-male colleagues and solve the case in order to keep her new job.
So begins this dark and intense detective series, whose fictional cases are based on real-life murders, kidnappings, and other crimes.
In addition to Fich, Unit One stars several other Danish actors whom you might recall from other series, including Lars Brygmann (Borgen) as the cerebral and intuitive Detective Inspector Thomas La Cour, and international television and film star Mads Mikkelsen (Hannibal, Clash of the Titans, Casino Royale) as the impulsive and hot-headed Detective Inspector Allan Fischer.
Check out the trailer on MHz Networks' program page.
Unit One
premieres tonight, starting at 9 PM ET, when Episodes 1 and 2 screen back to back during the two-hour MHz International Mystery program block. (Both will be repeated on telly and online beginning at 12 midnight ET.)
To find out where you can watch them, visit MHz's list of broadcast, cable, and satellite channels. If your city isn't listed (or if you don't have DirecTV), then head to the MHz Worldview Live webpage, where you can stream the program at the same time that it screens on telly.
—————————
Nordic Noir Alert: Danish Crime Drama "Unit One" Premiering in the US