British mysteries such as the Marple, Poirot and Sherlock series have been delighting armchair detectives for decades, but it has only been within the past several years that foreign language television dramas have been catching on and thrilling ever-larger audiences on both sides of the pond.
Similar to foreign language films, international television dramas are shown in their original languages on fewer channels — primarily on BBC Four in the UK and MHz Networks in the US. Yet in a relatively short period of time, these programs have found footing, developed followings and been gaining in viewership.
One of the most popular sub-genres is Scandinavian crime drama, a.k.a. Nordic Noir — dark, moody and slow-paced series with brooding heroes, foreboding scenery and layered plots. And subtitles for non-Danish, Finnish, Icelandic, Norwegian, and Swedish speaking viewers.
And some of the most popular programs, noir or no noir, are these original scripted dramas, each of which has topped the one million viewers mark on BBC Four:
Multiple award-winning Danish police procedural The Killing (Forbrydelsen in Danish), which tracks a different murder case each season through hour-long episodes that represent 24-hour periods during the investigation.
Danish-Swedish crime drama The Bridge (Broen in Danish, Bron in Swedish), which begins each season with the discovery of a crime at the Øresund Bridge that links Denmark and Sweden. (Series 1 was excellent from the word "gå" and I binge-watched the 10 hour-long episodes over 3 nights. I would have done in 1 or 2 nights if I could have. It was that good.)
Danish political drama Borgen — hailed by Newsweek as "the best TV show you have never seen" and by author Stephen King as the best TV show of 2012 — which follows a politician who becomes the first female Prime Minister of Denmark.
Adaptations of bestselling Nordic Noir fiction have also done well, including Henning Mankell's Wallander;
Beck,
based on Maj Sjöwall and Per Wahlöö's Martin Beck mystery novels; and Crimes of Passion,
a series of whodunit novels by Dagmar Lange, written under the pen name of Maria Lang.
(I can't speak for the books, but I've watched every episode of Crimes of Passion and Wallander, both of which are fabulous if you're into mysteries. By the way, MHz Networks is now screening new episodes from the third series of Wallander; visit the MHz website for details.)
What makes these shows and those like them so appealing?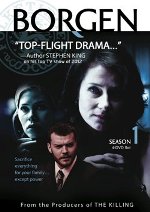 According to Lance Schwulst, E-Commerce Director at MHz Networks, "The success of the Scandinavian crime and mystery genre is due in large part to the Millennium Trilogy by Stieg Larsson (The Girl with the Dragon Tattoo, The Girl Who Played with Fire, and The Girl Who Kicked the Hornet's Nest), but more importantly, viewers enjoy these series because of the character development. Oftentimes, the crimes take a back seat to those trying to solve them or even to those who perpetrate them. The character development is quite rich. Scandinavian crime fiction is also introducing the world to other dramas from the region, such as Borgen."
The success of the original The Girl with the Dragon Tattoo prompted the US remake starring Daniel Craig, and more English-language remakes followed the success of Nordic Noir program exports. The Killing, which ran for three seasons on AMC until it was axed, is returning for a fourth and final season courtesy of Netflix, and FX will screen the second season of The Bridge this summer. (There was also a bilingual British-French remake of The Bridge titled The Tunnel, which screened in the UK and France late last year.) As for Borgen, HBO and BBC Worldwide are reportedly developing a US version.
Other English-language Nordic Noir dramas that you might be familiar with are BBC's adaptation of Wallander, whose three seasons ran on BBC and PBS, and Netflix's original drama Lilyhammer, whose third season recently began filming.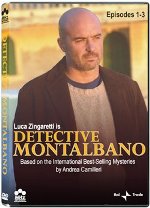 And it isn't just crime stories in cold Scandinavian climates that have been pulling in English-speaking viewers. The French and Italians have begun a new "new wave" with their television crime dramas and mysteries — including France's Spiral
(Engrenages) and Braquo
and Italy's Detective Montalbano
and Don Matteo
— which, like their northern counterparts, use crimes to forward the stories of the central characters.
Gritty, violent and intense, Spiral's police officers, attorneys and judges are flawed and corruptible or already corrupt, yet remain on the right side of the law, whereas the titular commissario of the lighter, more humorous and more desolate feeling Detective Montalbano has an easygoing manner, pensive nature and morally upstanding character, which set the tone for his investigations and relationships with cops and criminals alike.
While the French and Italian Noir programs have devoted American and British fans as a whole, Spiral and Detective Montalbano have been breakout hits — the former even before Mr. Selfridge made Grégory Fitoussi the source of many a swoon.
So, where can you get a taste of Nordic, French and Italian programs (some noir, others not so much)? As noted earlier, many of these shows screen in the UK on BBC Four, and soon on Channel 4, when it debuts the Norwegian hit Mammon.
Also check the UK streaming services such as Amazon Prime Instant Video
(formerly LoveFilm) for program offerings.
In the US, MHz Networks screens an international drama every evening from 9-11 PM ET, which you can watch via broadcast, cable and satellite, online, and through digital devices and services. Stateside video-on-demand services, including Amazon Instant Video, Hulu, Netflix and Vudu, are also a good bet. Here's where you can watch what:
For more about Nordic Noir and other TV series from Europe, check out our sister blog, The Euro TV Place.
—————————
Brit Mystery Fans Falling for Nordic Noir [Updated]