Viewers have been flocking to PBS to follow the saga of the Crawleys in all their aristocratic glory since Downton Abbey debuted on this side of the pond in 2011. And this year they came out in droves for the fourth season opener, which broke ratings records for the public television network and its member stations.
An average audience of 10.2 million viewers tuned in to PBS MASTERPIECE between 9:00-11:00 PM this past Sunday to see how the upstairs Crawleys and their downstairs staff had moved on (or not) after Matthew's untimely death in last season's Downton finale — a nearly 30% increase over the 7.9 million viewers who had watched the third season opener last January.
The 6.2 household rating for this season's premiere of the Emmy®, Golden Globe® and SAG Award®-winning Downton Abbey bested those for programs in the same time slot on all other networks save CBS, with which PBS tied.
In the Twittersphere, 2.9 million people sent 97,000 tweets during the premiere evening, and the resultant 15.2 million unique audience impressions made Downton the #2 non-sports telecast for the whole day.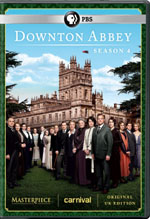 "I'm delighted to see that the Crawley family's intrigue continues to beguile our viewers," said MASTERPIECE Executive Producer Rebecca Eaton. "Julian Fellowes has written every word of all four seasons of 'Downton,' and I toss him a huge bouquet on behalf of his American fans."
Added PBS President and CEO Paula Kerger, "I'm so pleased that millions of viewers have returned to 'Downton Abbey' on their local PBS stations for what has become a post-holiday tradition."
PBS member stations from California to Maine had record-making and -breaking audience numbers as well, one being WETA, which was the ratings winner in the Washington, DC market with its 7.6 rating and 12 share.
"It is great that Downton Abbey is an excellent vehicle that draws viewers into the many wonderful programs found throughout our WETA Television schedule, including on WETA TV 26, WETA HD and WETA UK," commented Kevin Harris, Vice President and Television Station Manager of WETA.
WETA, along with more than 135 other PBS stations across the US, hosted special screenings of the new season's first episode in the weeks leading up to the Downton Abbey: Season 4 broadcast premiere, which collectively brought tens of thousands of Downton fans out to celebrate in high style at events ranging from high teas and dinners to cruises.
As Season 4 progresses, new episodes will be available for free streaming on the PBS Video Portal and PBS station websites, and via the PBS app on Roku, Xbox, and Apple TV — all for a limited time after each national broadcast.
PBS and MASTERPIECE will also continue to host live discussions during each broadcast on social media. To join in on the fun, follow @masterpiecepbs and use #DowntonPBS on Twitter.
Episode 2 of Downton Abbey: Season 4
premieres this Sunday, the 12th of January, at 9 PM Eastern. (Check your local listings.)
—————————
Downton Abbey Season 4 Opener Breaks National and Local Ratings Records