With Downton Abbey: Season 4 making its stateside premiere in just two days, fans on this side of the pond will finally get to see how the Crawley clan et. al. are faring six months after Matthew's death. I was on holiday in the UK when the new season was airing there, and have a few tempting tidbits (but no spoilers) for you, plus an exclusive from the Downton sneak-peek event hosted by WETA.
Before I get to the Downton bits, allow me to first share with you highlights from the screening I attended. Hosted by WETA, the PBS member station serving the Washington, DC metro area (and whose digital channel WETA UK serves up British TV programming 24/7/365), the event treated WETA supporters and other local fans of Downton Abbey to the first hour of the new season's
two-hour opener.
Once the program got underway, it was as if no time had passed since we last saw the Crawleys, even though it has been nearly a year. The drama, scheming, and things that make you go ha-ha all played out on screen, and we in the audience loved every bit of it and wanted nothing more than to see more. But more Downton would have to wait until the broadcast premiere.
For me personally, there was more, albeit of a different sort, and it took place before the screening began.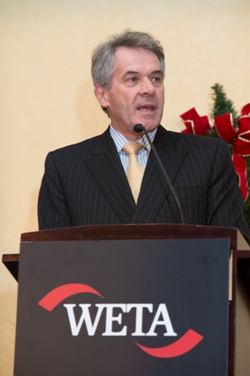 None of the Downton cast members were at the event, but Sir Peter Westmacott, the British Ambassador to the US, was. A diplomat of the highest order, his courtesy extended beyond the realm of foreign affairs when he shared some thoughts with me during an impromptu interview.
Specifically, those about television programs he would bring to the screen if he weren't an ambassador but were a producer/writer.
At first blush: an espionage thriller, "… because with espionage, there is intrigue and suspense. And when there is suspense, it is intense."
(Perhaps a series about MI-6 as a spin-off to Spooks/MI-5, then.)
As Sir Peter (or Mr. Ambassador, as I called him) continued, one of his passions emerged. That is, penguins and other creatures of arctic climes, which he would film for documentaries.
If the Ambassador's production skills were on par with his diplomatic ones, I am sure they would be brilliant.
As for Downton Abbey, here are a few things you can expect to see in Season 4:
Downton Abbey – Courtesy of © Nick Briggs/Carnival Film and Television Limited 2013 for MASTERPIECE

Lady Edith (Laura Carmichael) and Michael Gregson (Charles Edwards) deepen their relationship.

Lady Mary (Michelle Dockery) is wooed by Lord Gillingham (Tom Cullen), amongst other suitors.
A first: Lady Mary gets disheveled and dirty!
Thomas (Rob James-Collier) has a new frenemy.
Lord Grantham (Hugh Bonneville) frets about money issues again.
Martha Levinson (Shirley MacLaine) returns to Downton, with Cora's playboy (and rather unobliging) brother Harold (Paul Giamatti) in tow.

Downton Abbey – Courtesy of © Nick Briggs/Carnival Film and Television Limited 2013 for MASTERPIECE

Lady Rose (Lily James) gets herself into more than one pickle.

A particular someone reappears at Downton and causes trouble.
The smarmy shenanigans of a Downton guest do the same.
A regular character departs Downton.
An horrific event occurs, the aftermath of which could destroy a treasured relationship.
All this and more are in store when Downton Abbey
returns to PBS Masterpiece Classic on Sunday, the 5th of January, at 9 PM. (Check your local listings.)
—————————
Downton Abbey: Season 4 Tidbits Plus WETA Screening Event