It was a banner year for British TV in the U.S. From top-rated new series and highly-anticipated new season premieres, to one-off hits and the 2012 London Olympic Games, there was something for every Brit TV fan both on telly and online. Let's take a look at some of the shows that kept us tuning and logging in.

There's a lot to cover, so this year in review is divided into two parts. Part 1 covers new programs that premiered in the U.S. in 2012, and Part 2 covers returning programs whose new seasons premiered in 2012 stateside.
Part 1.1: 2012 New Program Premieres on Television
Call the Midwife
(PBS)
The BBC had the highest-rated drama debut in its history with this program. PBS viewers loved it, too.
Set in the 1950s in the East End of London, the series follows Jenny Lee (Jessica Raine), Sister Julienne (Jenny Agutter), and the other midwives and nuns of Nonnatus House as they provide nursing and midwifery care to Poplar's many pregnant women, newborns, and other citizens. Emotional and witty, this is heartwarming drama at its finest.
Season 2 will consist of eight episodes (up from six) and premiere in the U.S. on PBS on 31 March 2013.
Copper
(BBC America)
BBC America's first original scripted series gave the network its highest-rated series premiere ever and its highest-rated drama series ever.
Starring Tom Weston-Jones as Irish-American cop Kevin Corcoran, Copper follows his battle for justice in 1864 New York City. Alongside him are Civil War compatriots Robert Morehouse (Kyle Schmid) and Matthew Freeman (Ato Essandoh), who assist him as he fights crime and corruption from the mean streets of the immigrant Five Points neighborhood to the dirty-dealing ones of posh Fifth Avenue. Excellent.
BBC America renewed Copper for a second season, which will air in 2013 with thirteen instead of ten episodes.
The Crimson Petal and the White
(Encore)
Nominated for five 2012 BAFTA awards, including Best Mini-Series and Best Actress, this four-part drama stars Romola Garai as Sugar, a clever, sexually adept, and ambitious prostitute who's in pursuit of a better life in Victorian London.
She finds it when William Rackham (Chris O'Dowd), heir to a perfume business and husband to a mentally-ill wife, falls for Sugar and makes her an offer she doesn't refuse. She soon grows attached to Rackham, and also forms bonds with his daughter and wife. As the drama unfolds, their lives unravel with disastrous results for all involved. The show was brilliant.
Endeavour
(PBS Masterpiece)
Before Endeavour Morse was a Chief Inspector, he was a Detective Constable, as played by Shaun Evans in this prequel to the Inspector Morse series.
DC Morse, conflicted about police work and ready to resign, returns to the Oxford he'd left to investigate the case of a missing schoolgirl with DI Fred Thursday (Roger Allam). In the process, he drives his first Jaguar, drinks his first pint, and finds clues in his passions of opera and crosswords.
Intended as a one-off program to mark the 25h anniversary of the first episode of Inspector Morse, Endeavour was a hit on both sides of the pond, so ITV commissioned four new two-hour episodes. Co-producer PBS Masterpiece will air the series in 2013. Stay tuned for updates regarding the U.S. premiere. (I can't wait!)
More programs that premiered on television, amongst others, include The Fades
(the 2012 BAFTA award winner for best drama series), Inside Men,
The Secret of Crickley Hall,
and White Heat
on BBC America; Birdsong,
Great Expectations
(which won four Creative Arts Emmy Awards), and The Mystery of Edwin Drood
on PBS Masterpiece; and Restless on Sundance.
Part 1.2: 2012 New Program Premieres Online
Above Suspicion
(Acorn TV)
This "younger, sassier successor to Prime Suspect" (The Telegraph) premiered in the UK in 2009, but made its U.S. debut in 2012 on Acorn TV.
The crime drama stars Kelly Reilly as DC/DI Anna Travis and Ciarán Hinds as DCI/DCS James Langton, a veteran cop whose interest in her is both professional and personal. Cases include years-long unsolved murders, a copycat killer, drug-related homicides, and a celebrity killing.
To date, three installments — Above Suspicion, Above Suspicion: The Red Dahlia, and Above Suspicion: Deadly Intent — are available in the U.S. The fourth, Above Suspicion: Silent Scream, recently aired in the UK; no word yet on if and when it will be available stateside. (I hopes so. The first three stories are compelling, and I expect the fourth to be, too.)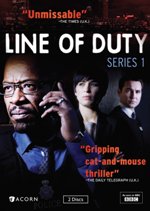 Line of Duty
(Hulu & Hulu Plus)
The most-viewed new drama on BBC Two in nearly a decade, Line of Duty is a Hulu Exclusive Series and is shown only on the streaming service in the U.S.
An intense and gritty police drama, this five-episode series centers on the anti-corruption investigation of DCI Tony Gates (Lennie James) by AC12 officers DS Steve Arnott (Martin Compston) and DC Kate Fleming (Vicky McClure). While Gates' case-solving numbers have garnered him the Officer of the Year award, his cover-up of his lover's car accident leads to more serious events with deadly consequences.
A must-see (imo), each episode is utterly gripping (and not for the squeamish) and keeps you on the edge of your seat until the very end. BBC Two has commissioned a second series of Line of Duty, which is expected to air in the UK in the second half of 2013. No word yet on if or when Hulu will carry it.
Monroe
(Acorn TV)
The first season of this medical drama aired on ITV in the UK in 2011 and made its debut in the U.S. this year on the Acorn TV streaming service.
Dr. Gabriel Monroe (James Nesbitt) is a neurosurgeon with a gigantic ego and devastating wit on one hand, and humanity and compassion on the other. Expert as he is in wielding a scalpel, he struggles in handling his personal and work relationships, including with his wife Anna (Susan Lynch) and heart surgeon Dr. Jenny Bremner (Sarah Parish).
All in all, Monroe is smart, engaging, and a delight to watch. The second and final season recently finished airing in the UK; no word yet on if or when Acorn TV will have streaming rights to it.
Vexed
(Acorn TV)
The first season of Vexed aired in the UK in 2010, but debuted in the U.S. in 2012 on Acorn TV.
This dramedy police procedural stars Toby Stephens as the lazy, disorganized, and charming DI Jack Armstrong, and Lucy Punch as the dedicated, efficient, and determined DI Kate Bishop. They bicker their way through solving cases, including a serial killer who targets lonely women, the attempted murder of a banker, and a high-profile kidnapping.
Vexed lacks the depth of other programs in this genre, but it's entertaining overall. A second season of the show aired in the UK in Summer 2012. No word yet on if Acorn TV will have streaming rights to it, or if the show will return for a third season. Stay tuned.
Other programs that premiered online in 2012 include Out
on Acorn TV and Derren Brown: Inside Your Mind
and Pramface on Hulu.
Coming up: British TV 2012 Year in Review, Part 2: New Season Premieres.
—————————
British TV 2012 Year in Review, Part 1