Copper Premiering August 19
BBC America will premiere its first scripted series, the police drama, Copper, on Sunday, August 19 at 10PM Eastern. While it's a show that's set in 1860s New York City instead of London or another UK locale, it does star British actor Tom Weston-Jones (MI-5).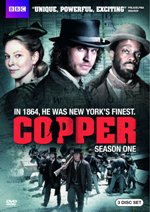 Weston-Jones plays Kevin Corcoran, a Civil War veteran who returns home to find his daughter dead and wife missing. After becoming a detective with New York's finest, he brings as much law and order as he can to the streets of the crime-ridden Five Points neighborhood, all while digging for the truth about what happened to his family. For the latter, he enlists the help of two wartime friends played by Ato Essandoh (Damages, Blue Bloods) and Kyle Schmid (Being Human).
Intriguing, yes? Until the premiere, head over to the Copper section of the BBC America website to learn more about the program and to have your mugshot taken with the Mugshot App.
The Hour: Season 2 Coming This Fall
A new installment of the Emmy- and Golden Globe-nominated miniseries, The Hour, returns this November. Set during the Cold War period, this drama/thriller goes behind the scenes to give us a look at the start and rise of British TV news. In the new season, one story line has Hector (Dominc West) getting himself into a heap of trouble amid the glamour and wealth that surrounds him.
If you didn't get a chance to watch Season 1 of The Hour on BBC America, you can stream all six episodes at Amazon Instant Video.
And Now for Something Completely Different
No, it's not a new Monty Python TV show, but the new reality/competition program, Chef Race: UK vs. US, from celebrity chef and Executive Producer Jamie Oliver. Based on its description, it sounds to me like a mash-up of Amazing Race, The Apprentice, and No Kitchen Required.
The show follows eight Americans and eight Brits — all chefs — as they race from Los Angeles to New York City for the $100,000 prize. Along the way, they must use their "resourcefulness, ingenuity, leadership and finesse" as well as their cooking skills to succeed, since each will have few resources and no money at their disposal. The Fall premiere date hasn't been announced yet, so stay tuned.
—————————
Coming Soon: Premiere of Copper, The Hour: Season 2, and More On BBC America