There's a new caterer/sleuth in British TV land, and she's cooking up curries and catching criminals in the entertaining and enjoyable new series Mrs. Sidhu Investigates.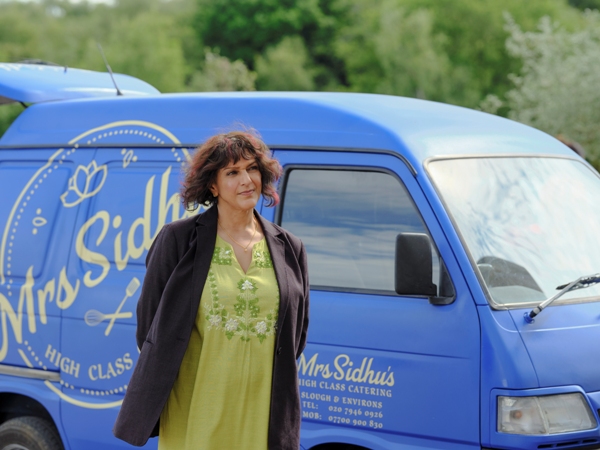 I'm a big fan of Meera Syal (The Kumars at No. 42, The Split, The Devil's Hour) and delighted that she's fronting the new television mystery series Mrs Sidhu Investigates. The show is based on the BBC Radio 4 series of the same name (which you can listen to here, even if you're outside the UK), a popular audio whodunit program created by Suk Pannu (The Kumars at No. 42, Goodness Gracious Me), which he adapted for the screen, and which features the voice talent of Meera Syal as the titular character.
It's wonderful to see a series that features a South Asian actress in the lead role and Indian culture sprinkled throughout, from the food and Mrs. Sidhu's being an "auntie" in the Asian, non-blood-relation-but-as-close-as-family sense, to the altar in her home and the judgmental South Asian neighbors on her street in Slough. All of this and more lend a feeling of authenticity, homey comfort, and humor to the show — giving it the sense of being a cozy mystery, complete with red herrings, but with some distinctly non-cozy elements.
As for Mrs Sidhu, she's recently widowed, mum to Tez (Gurjeet Singh, Ackley Bridge), her layabout grown son, and the owner/operator of Mrs. Sidhu's High Class Catering of Slough and Environs. She's as nosy as her neighbors are gossipy, and as perceptive as an ace investigator. However, she must've taken lessons from the Gavin Troy School of Driving in Midsomer, although her singing along to country tunes while driving would do Mike Shepherd down in Brokenwood proud. And Mrs. Sidhu has a thing for solving crimes; one could say it's in her blood. She even creates incident boards.
Somehow her catering jobs put her smack in the middle of some deadly and near-fatal crimes — cases that are investigated by Detective Chief Inspector Burton (Craig Parkinson, Line of Duty, Grace, Doctor Who), a recently-divorced and world-weary copper, and his young and capable partner, Detective Sergeant Mint (Naana Agyei-Ampadu, Industry, Death in Paradise). While their relationship with Mrs. Sidhu is a bit frosty at first, once it starts to thaw a bit, they make quite an effective crime-fighting team.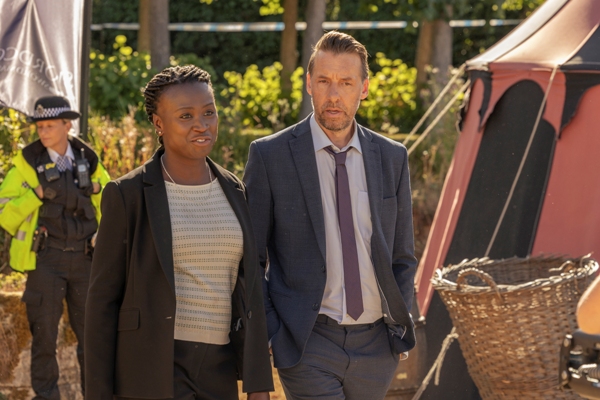 In "Ripped," the series opener, Mrs. Sidhu arrives for her new catering gig at Sharpetone, a high-end health club in Berkshire, where her "niece" Rani (Varada Sethu, Annika) works as a massage therapist… and becomes the prime suspect in a double murder that occurred in the club's spa. Rani is reticent to share details with her auntie, but Mrs. Sidhu is still convinced that she didn't do it and puts her freedom where her mouth is with DCI Burton. As Mrs. Sidhu coaxes information out of people with her tasty treats, she uncovers the truth about the victims and the killer — but the clock is ticking to save Rani…
"Breaking Convention" finds Mrs. Sidhu and Tez at Raven's Lair, handling the catering for SwordCon, the fan convention for Swordmaster, a popular fantasy TV series. Everything's all fake swordplay and real book-signings and selfies when the body of the lead actress is found dead in the woods — murdered the same way a character was killed on the show. While staying on to cook for the Melvilles, the family behind the show, Mrs. Sidhu does a ton of snooping while her "partner," DCI Burton, pegs a local fan as the culprit. But what she learns doesn't sync with his theory, and in developing one of her own, she sets out to get the evidence and puts herself in danger in the process.
In "Killer App," Mrs. Sidhu is at Berkshire-based tech company Appenda to start her in-house catering job when the CEO's dead body is found strangled in his office, mere hours after he signed a deal to sell the company to a big investor. This time, Mrs. Sidhu and DCI Burton work in concert to solve the case, with assistance from DS Mint and even Tez, of all people (while Tez is doing something unsavory to get himself out of a mess with a tech entrepreneur). The way to the truth is through a food lover's stomach, and Mrs. Sidhu's food gives her access to hidden details and the killer's identity.
The first season of Mrs. Sidhu Investigates closes with "On the Ropes," which sees Mrs. Sidhu and Tez doing the catering at the luxe Ringside Manor in Berkshire for a boxing championship match. But soon after the match ends, one of the boxers is abducted and the kidnappers want £300,000 — an amount that neither he, his team, nor his pregnant girlfriend has or can get. Once again, Mrs. Sidhu's keen eye for detail proves valuable, as does Tez's decency and information from a trusted source, but now it's up to just Mrs. Sidhu and DS Mint to find and save the boxer from an early death, as DCI Burton is unconscious in hospital, injured in the line of duty…
Mrs Sidhu Investigates, an Acorn TV Original, premieres tomorrow, Monday, September 18, exclusively on Acorn TV. New episodes drop weekly on Mondays through October 9.
The Season 1 cast includes Gordon Kennedy (Robin Hood), Tori Allen-Martin (London Kills), Aaron Heffernan (Brassic), Andrea Lowe (DCI Banks), Jo Martin (Doctor Who), Clive Russell (Doc Martin), Sara Stewart (Queens of Mystery), and Zoe Telford (Unforgotten), amongst others.
__________________
As an affiliate of Amazon and other cos, affiliate links on this blog allow us to earn income from qualifying actions (at no extra cost to you).

Mrs Sidhu Investigates: Entertaining New Mystery Series Set for US Premiere