Acorn TV announced today the premiere date for Season 2 of Harry Wild, the hit Irish mystery drama starring multi-award winner Jane Seymour. Check out the trailer.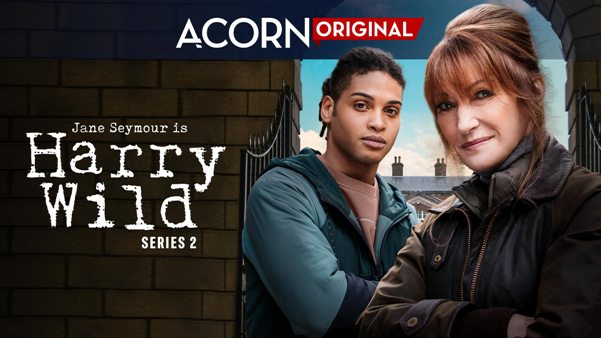 Emmy® and Golden Globe® Award-winning actress Jane Seymour (The Kominsky Method, Dr. Quinn, Medicine Woman, Live and Let Die) reprises her role as former literature professor-turned-sleuth Harry Wild when her hit series Harry Wild returns to our screens with its second season.
Season 2 of the humor-filled Irish mystery thriller sees Harry, a retiree who found an unusual pastime in solving crimes, teaming up once again with Fergus Reid (Rohan Nedd, Whitstable Pearl, Safe), her young partner in private investigation work. Together the wise-cracking pair investigate cases ranging from missing persons to murders, much to the annoyance of Harry's son, Charlie (Kevin Ryan, Guilt, The South Westerlies), a detective in the Dublin Garda. When Fergus's mother suddenly turns up, years after abandoning her family, they have a deeply personal mystery to solve: What are her intentions? And can he trust her?
Harry Wild: Season 2, an Acorn TV Original, premieres in the US, Canada, New Zealand, Australia, and UK with two episodes on Monday, October 9, exclusively on Acorn TV. New episodes will be released weekly on Mondays.
Also featuring in the six-episode second season are Paul Tylak (Kin), Amy Huberman (Striking Out), and Rose O'Neill.
A production of Dynamic Television, co-produced by Acorn Media Enterprises, Season 2 of Harry Wild is created and written by David Logan, along with writer Jo Spain, and directed by Robert Quinn and Emer Conroy. It is executive produced by Jane Seymour, Daniel March, Klaus Zimmermann, James Gibb, Morgan O'Sullivan, James Flynn, Bea Hammer, and Catherine Mackin.
__________________
As an affiliate of Amazon and other cos, affiliate links on this blog allow us to earn income from qualifying actions (at no extra cost to you).

Harry Wild: Acorn TV Sets Premiere Date for Season 2 of Hit Irish Mystery Drama