BBC crime thriller Better, created and written by Jonathan Brackley and Sam Vincent (the team behind MI-5 and Humans), is making its debut in the US.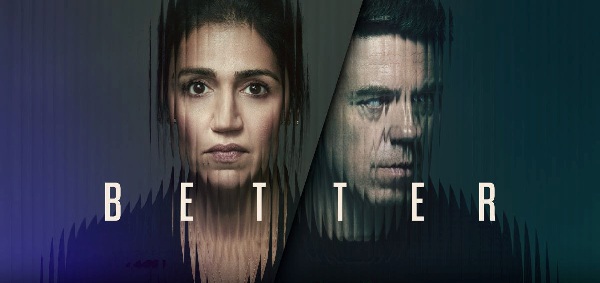 Set and shot in Leeds, redemption story Better follows DI Lou Slack (Leila Farzad, I Hate Suzie, Black Mirror, Avenue 5), a confident and quick-witted cop who was destined to follow in the footsteps of her father, a legendary detective in the same police force in West Yorkshire. Colleagues see Lou as as one of the best detectives on the team. However, her success is based on a foundation of deceit and corruption.
Elsewhere in Leeds, Col McHugh (Andrew Buchan, Broadchurch, The Honourable Woman, Garrow's Law), a charming and charismatic Irish businessman and property developer, commands any room he walks into with just his presence. Successful though he may be in this enterprise, those closest to him know Col as a highly-disciplined and coldly ruthless head of a powerful citywide drug trafficking gang.
Lou and Col's paths crossed 19 years ago, when she was a young police officer at her lowest ebb and he was a low-ranking but ambitious newcomer to the Leeds underworld. They struck a deal that changed their lives forever — one that allowed Col to become very rich and very powerful, and Lou to turn around her failing career — and forged a complex but special bond.
So began Lou's gradual but unmistakable slide into corruption. From small favors for Col in exchange for tip offs, to a bit of money here and there to help her through some tough times, Lou's criminality ultimately seeped into every aspect of her life and morphed into something much more sinister and dangerous as the stakes grew.
Then Lou rediscovers her conscience — triggered by the near-death of her son — and she decides to put right 20 years of wrongdoing: She must bring down the man she has come to love like a brother and helped place at the head of Leeds criminal underworld. But first she has to confront her own moral and ethical failings.
Better premieres in the US today, Tuesday, September 12, exclusively on Hulu. Check it out here.
The five-episode limited series costars Samuel Edward-Cook (Peaky Blinders) as Ceri, Lou's husband, who's deeply conflicted about her arrangement with Col; Zak Ford-Williams (Wolfe) as Owen, their smart and sensitive teenage son; Ceallach Spellman (Cold Feet) as Donal, Col's son, a broken young man who fails to live up to his father's expectations; and Carolin Stoltz (Shetland) as Alma, Col's wife and a crucial part of his inner circle.
Also featuring in the hour-long thriller are Anton Lesser (Endeavour) as Vernon, an ex-detective who knew Lou's dad, whom she turns to for help, and Olivia Nakintu (Vera) as DC Esther Okoye, Lou's closest colleague on the force.
__________________
As an affiliate of Amazon and other cos, affiliate links on this blog allow us to earn income from qualifying actions (at no extra cost to you).

Better: BBC Crime Thriller Premieres in the US