Prime Video has set the global premiere date for Wilderness, the new suspense drama series starring Jenna Coleman and Oliver Jackson-Cohen. Check out the teaser.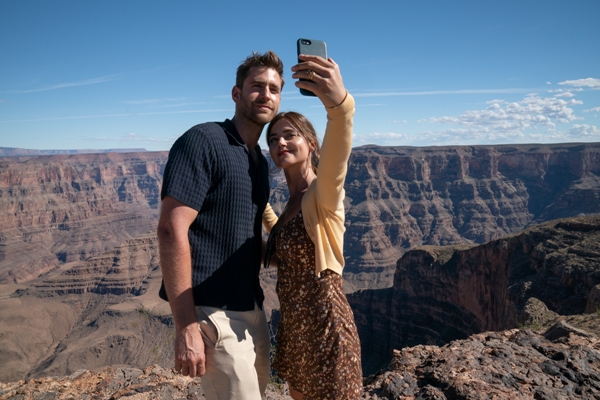 Hell hath no fury like a woman scorned. Especially when that woman is Liv.
Welcome to a dream holiday and supposedly happily-ever-after relationship that quickly devolve into a living nightmare in Wilderness, the new psychological thriller series based on the novel Wilderness by B.E. Jones.
Liv (Jenna Coleman, The Serpent, Victoria, Doctor Who) is married to Will (Oliver Jackson-Cohen, Surface, The Haunting of Hill House, Man in an Orange Shirt), and together they are a couple who seem to have it all: a rock-solid marriage, a glamorous new life in New York, thousands of miles from their provincial hometown, and a golden future stretching ahead of them. They're still young enough to feel that their whole lives are ahead of them.
Then Liv learns about Will's affair. Her heartbreak is swiftly followed by fury. Revenge is her only option, and when Will proposes a trip around America's epic National Parks to give their relationship a fresh start, Liv knows just how to get it…
Wilderness, a Prime UK Original Series, premieres globally on Friday, September 15, exclusively on Prime Video.
Fyi, the song in the teaser is Taylor Swift's defiant "Look What You Made Me Do (Taylor's Version)," a re-recorded track from her album Reputation, which reflects Liv's transformation from happy wife to vengeful schemer.

Created and written by Marnie Dickens (Gold Digger, Thirteen), Wilderness is directed by So Yong Kim (Grand Army, Dr. Death), and executive produced by Elizabeth Kilgarriff.
__________________
As an affiliate of Amazon and other cos, affiliate links on this blog allow us to earn income from qualifying actions (at no extra cost to you).

Wilderness: Prime Video Sets Premiere Date for New Thriller Series