Stateside fans of The Chelsea Detective, rejoice! Season 2 of this cracking good mystery series is set to premiere on this side of the pond!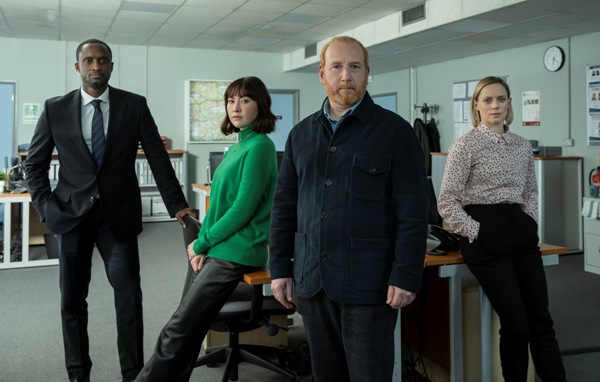 With what sometimes feels like a kazillion titles saved across numerous watchlists, I rarely stick with a show past the first episode if it doesn't engage me. This is decidedly not the case with The Chelsea Detective, whose first season I thoroughly enjoyed and whose second season screeners I binged.
If you're not familiar with the series, it stars the brilliant Adrian Scarborough (Killing Eve, 1917, Sanditon) as Detective Inspector Max Arnold, and follows the sharp and intuitive investigator as he and his team delve into crimes committed in the affluent West London borough of Chelsea.
When we reconnect with them in the series opener, "The Blue Room," we learn that Max's former partner, DS Priya Shamsie (Sonita Henry, Krypton, Luther), is now living and working in Brighton. His new partner is DS Layla Walsh (Vanessa Emme, Bloodlands, A Discovery of Witches, Dublin Murders), a sharp and quick-witted detective who's joined Chelsea CID from Exeter Police.
Their first case together concerns the murder of a gallery manager who, just prior to his untimely demise, had been overseeing the opening night party of "The Lost Pieces" exhibition at the art gallery owned by Rebekah Chaban (Rachael Stirling, Hollington Drive). It appears the guy was in the wrong place at the wrong time, as four paintings, collectively worth about £2 million, were stolen. As images from the crime scene begin to populate the incident board on Max's rented houseboat on the River Thames, Max and Layla, along with DC Jess Lombard (Lucy Phelps, Grace) and DC Connor Pollock (Peter Bankolé, Peaky Blinders), continue their inquiries, while Chief Forensics Officer Ashley Wilton (Sophie Stone, Shetland) meticulously goes through evidence at the lab. Interestingly, Layla has a connection to the Chabans' chauffeur. The case takes a sharp turn when Rebekah is targeted and left for dead, prompting Max to ask his wife, Astrid (Anamaria Marinca, Temple), a Chelsea art dealer from whom he's separated, for assistance. Things aren't adding up, and Max begins to wonder if the dead man was an accomplice before he became a victim.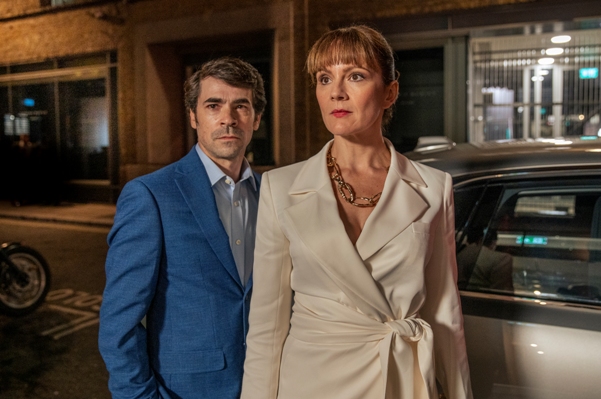 In "Golden Years," Max and co investigate the mysterious death of an 80-year-old woman, found dead in her bed in her flat at Greyfriars West, a luxury retirement home in a posh apartment building. It looks like she died from natural causes, until Ashley finds signs of foul play. Since the culprit easily gained entry into the flat, suspicion falls on Greyfriars West's staff, residents, and owner, as well as the victim's daughter, Maria Swanson (Raquel Cassidy, Downton Abbey), and her partner. Meanwhile, members of the Whitewash organization are gearing up for an annual day of observance related to a horrific event during South Africa's Apartheid era — to which the Swanson family are connected, thus expanding the list of potential suspects. And Max's dyslexia actually comes in handy on the case.
It's the Friday of a bank holiday weekend at the start of "The Reliable Witness," which finds Max and his team investigating the murder of a 51-year-old psychotherapist, who was killed while he was having an online session with a patient. In addition to a rather ugly note found in the bin, information from the victim's business partner, Charlotte Twist (Claire Skinner, Outnumbered), another psychotherapist, points to a former patient, one with a history of erratic behavior, as the most likely culprit. But how coincidental is it, then, that another patient of the deceased nearly dies hours after his murder? As Chelsea CID delve further into the histories of the people with connections to the dead psychotherapist, they uncover details that pave the way to solving the case.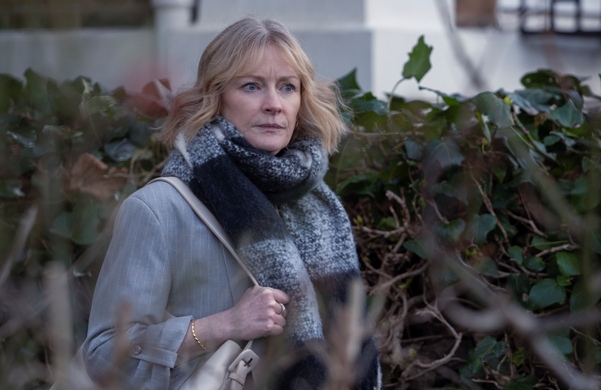 And in "A Crime of Passion," two 20-somethings are on a date and later make plans for another, but then he doesn't show up and she goes into an unhinged rage. His cleaning woman finds him the next morning, dead on the floor in his living room, covered in blood from multiple stab wounds, presumably inflicted during a frenzied attack. The victim, described by his brother, Caleb (Patrick Walshe McBride, Shakespeare & Hathaway), as being a player, ran a successful fruit-and-veg delivery service in Chelsea; his date, described by her sister as a hopeless romantic, works with her sister at the family's struggling tailoring shop. They met through a dating app, but it's social media that points Max, Layla, Jess, and Connor to a new theory about the murder, and solid detective work that reveals the real reason behind the killing.
The Chelsea Detective once again delivers four entertaining episodes in its second season, with intricate, character-centric, red-herring'ed stories that get into the deadly messiness that relationships, money, secrets, and more can cause. And the messiness can extend to the CID team, too, albeit (and thankfully) not fatally — such as Jess's big mistake on a case.
I really liked the team of Max and Priya in Season 1, but I adore the pairing of Max and Layla in Season 2. They play off each other and balance each other very nicely — her vibrancy to his jadedness, her outdoor camping to his houseboat lounging, her carrots to his candy.
I'd also like to give props to the persons who chose and approved the song "The Killing Moon" by English band Echo & the Bunnymen to be included in the first episode.
Bring on Season 3!
Frances Barber (Whitstable Pearl) reprises her role as Max's aunt, Olivia, in Season 2, which features additional guest stars Jack Ashton (Call the Midwife), Pippa Haywood (Scott & Bailey), Dominic Mafham (The Clinic), Neil Morrissey (The Good Karma Hospital), Siân Phillips (I, Claudius), and Simon Williams (Upstairs, Downstairs).
The Chelsea Detective, an Acorn Original series, premieres in the US and Canada tomorrow Monday, August 28, exclusively on Acorn TV. New episodes will drop weekly on Mondays through September 18.
__________________
As an affiliate of Amazon and other cos, affiliate links on this blog allow us to earn income from qualifying actions (at no extra cost to you).

The Chelsea Detective: Satisfying Season 2 of Fan-Favorite Mystery Series Set to Debut in the US