Acorn TV has released the official trailer for Season 2 of the marvelous mystery series The Chelsea Detective. Check it out!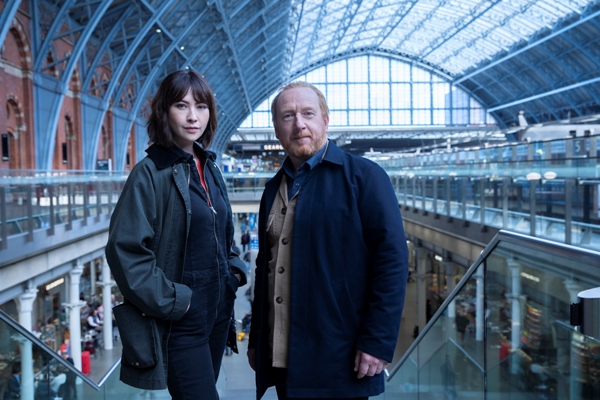 I'm thrilled to bits that The Chelsea Detective is returning with a new season. It has a certain charm about it. And it's a fun watch, too.
Reprising his titular role is Adrian Scarborough (Killing Eve, 1917, Sanditon) as Detective Inspector Max Arnold, a sharp and intuitive investigator who bikes to work, takes a lot of camera-phone photos at crime scenes, and, since separating from his wife, lives on a rented houseboat, where he maintains an incident board on a wall for his active cases.
Max has a new partner in Season 2: Detective Sergeant Layla Walsh, played by Vanessa Emme (Bloodlands, A Discovery of Witches), who joins Chelsea CID from Exeter Police. Sharp and quick-witted, Layla quickly gets used to Max's unique style and occasionally rolls her eyes at the worst excesses of Chelsea. She also discovers what Max knows all too well — that killers lurk amongst the art galleries and luxury homes — so it's up to them and the Chelsea CID team to expose them.
The team includes the brilliant, if occasionally daunting, Chief Forensics Officer Ashley Wilton (Sophie Stone, Shetland), research and tech queen DC Jess Lombard (Lucy Phelps, Grace), and DC Connor Pollock (Peter Bankolé, Peaky Blinders).
Here's a summary on the four feature-length episodes in The Chelsea Detective: Season 2:
Episode 1 — "The Blue Room" — When an art gallery manager is stabbed during the robbery of an exhibition, it appears he was in the wrong place at the wrong time. But as the team delve into the elite world of Chelsea's art scene, Max soon wonders if the victim was an accomplice.
Episode 2 — "Golden Years" — A woman at a luxury retirement home dies mysteriously, and with no signs of forced entry, suspicion falls on the staff and residents. But tensions within her family point to another cause, harking back to their time in Apartheid-era South Africa.
Episode 3 — "The Reliable Witness" — The most likely culprit in the murder of a psychotherapist is an ex-patient with a history of erratic behavior. As the team dig into the therapist's personal life, they uncover disturbing revelations that cast a new light on his killing.
Episode 4 — "A Crime of Passion" — The charming owner of a fruit and vegetable delivery company is found stabbed at home in what looks like a frenzied attack. The detectives must unravel romantic jealousies, family conflicts, and business rivalries to nab the killer.
Also returning for the new season are Anamaria Marinca (Temple) as Max's ex-wife, Astrid, and Frances Barber (Whitstable Pearl) as his aunt, Olivia Arnold.
Guest stars include Rachael Stirling (Hollington Drive), who plays gallery owner Rebekah Chaban in the Season 2 opener, and Simon Williams (EastEnders), who portrays nursing home resident Maurice Swift in the second episode.
The Chelsea Detective, an Acorn Original series, premieres in the US and Canada on Monday, August 28, exclusively on Acorn TV. New episodes will drop weekly on Mondays through September 18.
In the meantime, catch up on The Chelsea Detective: Season 1, currently available to Prime Video members at no additional cost.
Created and executive produced by Emmy® Award winner Peter Fincham (The Lost Prince, Smack the Pony, I'm Alan Partridge), the four episodes are written by Glen Laker (Vera, Prime Suspect), Peter Fincham, Liz Lake (Riviera, Call the Midwife), and Laura Poliakoff (Devils). The series producer is Ella Kelly (Death in Paradise, Midsomer Murders). The directors are Richard Signy (Death in Paradise, Silent Witness) and Sarah Esdaile (Call the Midwife).
The Chelsea Detective is produced by Acorn TV's Acorn Media Enterprises, Germany's ZDF, and BBC Studios' invested indie Expectation. Acorn TV serves as the exclusive home for the series in the U.S., Canada, the United Kingdom, Australia, and New Zealand, amongst other territories. BBC Studios distributes the series internationally.
__________________
As an affiliate of Amazon and other cos, affiliate links on this blog allow us to earn income from qualifying actions (at no extra cost to you).

The Chelsea Detective: Acorn TV Drops Trailer for Season 2 of Marvelous Mystery Series