Season 2 of viewer-favorite Irish cop drama series Hope Street is headed to select public TV stations next month. Check the list to see if your station will be showing it.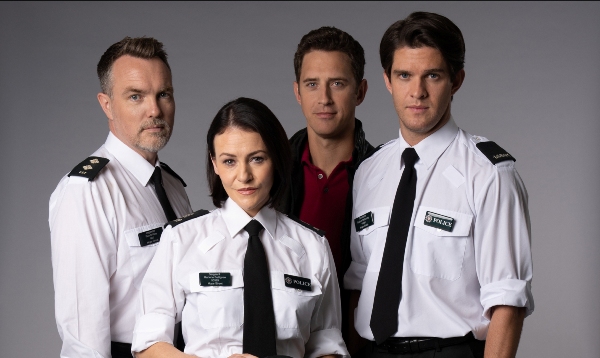 Created by Paul Marquess (London Kills, Suspects) and executive produced by Marquess and Donna Wiffen (The Light in the Hall, The Bill), Hope Street is returning to select public TV stations next month with its second season.
Opening six months after that explosive, cliffhanger finale in Season 1, the new season finds Inspector Finn O'Hare (Ciarán McMenamin, Primeval) a haunted man following his brush with death, but one who is in fierce denial that he is anything other than fine. Still, Sergeant Marlene Pettigrew (Kerri Quinn, Coronation Street) becomes Acting Inspector in his stead.
Joining the Port Devine station is a new detective, Al Quinn (Stephen Hagan, Lucky Man), who is a laid-back breath of fresh air — until his willful daughter turns up and plunges him into a moral and ethical dilemma. Al struggles to juggle his duty as a police officer while protecting his daughter, unaware that Police Constable Callum McCarthy (Niall Wright, McDonald & Dodds) is always watching.
Returning cast members include Brid Brennan (Unforgotten), Ellie Lavery (Almost Never), Des McAleer (Silent Witness), Louis McCartney (Game of Thrones), Aaron McCusker (Marcella), Niamh McGrady (Sister Boniface Mysteries), and Rachel Tucker (Informer).
In addition to Stephen Hagan, also joining the cast are Michael Byers (Mr Selfridge), Daniel Carlin (Blackrock), Niall Cusack (The Frankenstein Chronicles), Enya Doran, Conor Grimes (Mrs Wilson), Erin Galway Kendrick (Little Women), Ian Kenny (Dublin Murders), Brigid Lohrey (If I Don't Lose, I'll Lose), Marty Maguire (Vikings), Sade Malone (Rig 45), Chris McCurry (Belfast), Sophie Robinson (Rebellion), and Cathy White (Nurses).
Hope Street: Season 2 is confirmed for airing on the public TV stations and regional networks listed below starting on or after July 1, 2023. Check you local listings or contact the station that serves your area for air dates and times. To request the show, contact your public TV station or American Public Television.
Alabama Public Television
Connecticut Public Television (CPTV)
Georgia Public Broadcasting
Idaho Public Television
Iowa PBS
KCET
KCPT
KCTS
KERA
KLRU
KLVX
KPBS
KQEH
KRSU
KUED
Maryland Public Television
New Hampshire PBS
WDSC
WDSE
WEDU
WETA
WGBH
WLVT
WNEO
WPBS
WSBE
The ten-episode second season will also be available to stream via the licensing stations with Passport on pbs.org and the PBS App starting July 1.
__________________
As an affiliate of Amazon and other companies, ads & affiliate links on this blog allow us to earn income from qualifying actions and purchases (at no extra cost to you).

Hope Street: Season 2 of Northern Irish Cop Drama Headed to Select Public TV Stations