Season 9 of the hit comedy-drama series Doc Martin will begin airing on select public TV stations across the US next month. (Yay!)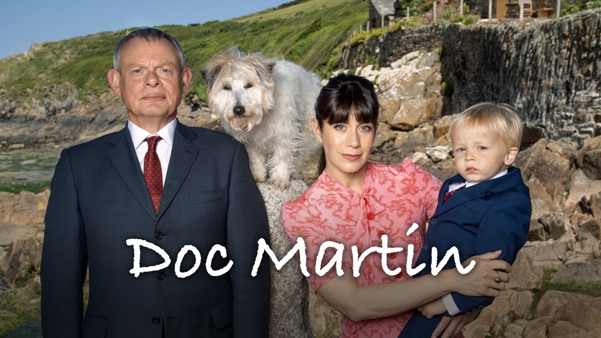 Hey there, Clunatics, Doc Martin is returning to public TV next month! So let's head to Cornwall and stop by the seaside town of Portwenn for a bit (i.e. eight episodes).
Starring BAFTA winner Martin Clunes (Manhunt, Warren, Men Behaving Badly) as the eponymous tactless, brusque, and blood-phobic GP, aka Dr. Martin Ellingham, the penultimate season of the hit comedy-drama series opens soon after Doc Martin's tribunal hearing (in the Season 8 finale). The outcome of that is this: Rebecca Hedden (Hermione Gulliford, Monarch of the Glen), a representative of the General Medical Council, must observe Martin's interactions and work with patients to determine if he should be allowed to keep practicing or be struck off.
Meanwhile, Martin's wife, Louisa (Caroline Catz, DCI Banks, Murder in Suburbia), is continuing to pursue her studies to become a child counselor as she and Martin consider the possibility of having another child. Elsewhere in Portwenn, Al (Joe Absolom, A Confession) is trying to make his pub a success, with underappreciated help from his girlfriend, Morwenna (Jessica Ransom, Our Zoo), and unwanted meddling from his dad, Bert (Ian McNeice, Doctor Who).
There's more besides, as the quirky residents of Portwenn, including local copper PC Penhale (John Marquez, Britannia), pharmacist Mrs. Tishell (Selena Cadell, The Lady Vanishes), and Martin's Aunt Ruth (Dame Eileen Atkins, The Crown), get up to some interesting things and come together for a wedding!
Season 9 features the return of Robyn Addison (Father Brown) as former Ellingham nanny Janice Bone and a special appearance by Doc Martin alum Stewart Wright (I Want My Wife Back) as PC Mark Mylow. Guest stars include Tom Conti (Shirley Valentine), Conleth Hill (Game of Thrones), Danny Huston (Succession), James Lance (Ted Lasso), and Caroline Quentin (Dickensian).
Doc Martin: Season 9 is confirmed for airing on the public TV stations and regional networks listed below starting on or after July 1, 2023. Check you local listings or contact the station that serves your area for air dates and times. To request the show, contact your public TV station or American Public Television.
Alabama Public Television
Arkansas PBS
Connecticut Public Television (CPTV)
Georgia Public Broadcasting
Idaho Public Television
Iowa PBS
KACV
KAET
KAKM
KAWE
KCET
KCPT
KCTS
KEET
Kentucky Educational Television (KET)
KERA
KETC
KLRU
KLVX
KMOS
KNME
KNPB
KOZK
KPBS
KPTS
KQEH
KRMA
KSPS
KSYS
KTCA
KTWU
KUAC
KUAT
KUED
KVIE
KWCM
KWSU
Louisiana Public Broadcasting
Maine Public Television
Maryland Public Television
Mississippi Public Broadcasting
Montana PBS
Nebraska Public Media
New Hampshire PBS
NJ PBS (New Jersey)
OETA (Oklahoma)
Oregon Public Broadcasting
PBS North Carolina
PBS Wisconsin
Prairie Public (North Dakota)
South Carolina ETV
South Dakota Public Broadcasting
Vermont Public
WCVE
WDCQ
WDSE
WEDU
WETA
WETP
WFWA
WFYI
WGBH
WGCU
WGTE
WGVU
WHRO
WHYY
WILL
WITF
WKAR
WLIW
WLRN
WLVT
WMHT
WMVS
WNED
WNEO
WNPT
WOSU
WPBS
WPSU
WPTO
WQED
WSBE
WSKG
WTIU
WTTW
WTVP
WTVS
WUCF
WUFT
WVIR
WVIZ
WVPT
WXEL
WXXI
WyomingPBS
The eight-episode ninth season will also be available to stream via the licensing stations with Passport on pbs.org and the PBS App starting July 1.
__________________
As an affiliate of Amazon and other companies, ads & affiliate links on this blog allow us to earn income from qualifying actions and purchases (at no extra cost to you).

Doc Martin: Penultimate Season of Hit Comedy-Drama Coming to Public TV