Happy almost weekend! Here are some tidbits about what's happening in the world of British TV, with a bit of Canadian TV news, too.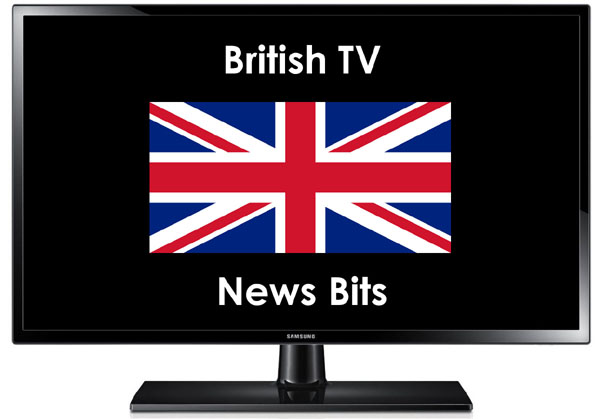 Lovely Little Farm
Lovely Little Farm is a charming, BAFTA TV Award-winning, live-action animated hybrid kids and family series, and it will be back soon with a second season. The show follows sisters Jill (Levi Howden) and Jacky (Kassidi Roberts) as they love and nurture all the animals on their farm nestled in lavender fields. Being a young farmer isn't easy, but every day brings them a chance to grow and to have an adventure — like watching the mysterious golden egg finally hatch and reveal two enchanted baby dragons, which the sisters learn to care for and adore.
Returning to the series with their voice talents are Shirley Henderson ("Harry Potter" films) as Quackety Duck Duck, Dominique Moore (Thomas & Friends) as Pickle Pony, Joel Fry (Paddington 2) as Al Alpaca, and Canan Yildiz-Husbands as Bif & Bop.
(Trailer is from Season 1)
Lovely Little Farm: Season 2, an Apple TV+ Original, premieres globally on Friday, June 16, exclusively on Apple TV+.
The Marlow Murder Club
MASTERPIECE and UKTV have co-commissioned The Marlow Murder Club, a TV adaptation of the novel The Marlow Murder Club, the first title in "The Marlow Murder Club" series of mystery stories penned by Robert Thorogood, the creator of the hit shows Death in Paradise and Beyond Paradise.
The four-part TV series stars Samantha Bond (Downton Abbey, Home Fires), who is joined by Jo Martin (Doctor Who, Back to Life), Cara Horgan (The Sandman, Traitors), and Natalie Dew (Sandylands, The Capture).
The story centers on retired archaeologist Judith Potts (Bond), who lives alone in a faded mansion in the peaceful town of Marlow, filling her time by setting crosswords for the local paper. During one of her regular wild swims in the Thames, Judith hears a gunshot coming from a neighbor's garden and believes a brutal murder has taken place.
When the police are reluctant to believe her story, Judith finds herself forming an unlikely friendship with local dog-walker and empty-nester Suzie Harris (Martin) and unfulfilled vicar's wife Becks Starling (Horgan) as they start an investigation of their own. Eventually asked to assist with the official police investigation, headed by newly-promoted DS Tanika Malik (Dew), the women must piece together clues, grill suspect witnesses, and face down real danger as they work against the clock to stop the killer in their tracks.
Stay tuned for updates.

Mr. Loverman
Another new page-to-screen series is Mr. Loverman, which is based on the acclaimed 2013 novel Mr. Loverman by Booker Prize-winning author Bernardine Evaristo. The eight-part drama, a life-affirming story about family, love, and being true to yourself, stars Lennie James (Save Me, Line of Duty) as the exuberant protagonist, Barrington Jedidiah.
Barrington Jedidiah Walker, Esq. — Barry to his mates; trouble to his wife, his daughters, and his lover. Seventy years old, Antiguan born, and exuberant Hackney personality, Barry is renowned for his dapper taste and fondness for retro suits. Carmel, his wife of 50 years, senses that Barry has been cheating on her with other women. Little does she know what's really going on: a secret, decades-long, passionate affair with his best friend and soulmate, Morris. Now entering the next chapter of his life, Barry has big choices to make that will force his whole family to question their own futures.
Bringing to life Bernardine Evaristo's ground-breaking exploration of Britain's older Caribbean community, Mr. Loverman paints an incisive portrait of a family, exploring aspirations, regret, parenthood, and social expectations about sexual orientation and love.
Adapting the novel for the screen is Nathaniel Price (The Outlaws, Noughts & Crosses), and directing the half-hour series is Hong Khaou (Baptiste, Lilting, Monsoon). Filming will begin later this year, with further casting to be announced in due course.
The drama, a production of the BBC and Fable Pictures (Wild Rose, Rocks), will be shown in the UK on BBC One and iPlayer. There's no word yet on whether a stateside outlet is picking up Mr. Loverman for audiences in the US. Stay tuned for updates.
Sullivan's Crossing
TV adaptation number three is the Canadian drama series Sullivan's Crossing, which is based on the "Sullivan's Crossing" book series by #1 New York Times best-selling author Robyn Carr, and has scored an early Season 2 renewal by The CW. The US network is partnering with Reel World Management, Bell Media's CTV, and Fremantle for production on the second season, which will start later this year.
Starring Morgan Kohan (Transplant, Batwoman), Chad Michael Murray (One Tree Hill, Riverdale), and Scott Patterson (Gilmore Girls, The Event), Sullivan's Crossing is about healing, letting go, and ultimately opening yourself up to a world of new opportunities. When Maggie Sullivan's (Kohan) life is thrown into turmoil, she is forced to leave her career in Boston, and her boyfriend Andrew (Allan Hawco, Republic of Doyle), to take refuge in Sullivan's Crossing, the campground run by her estranged father, Harry "Sully" Sullivan (Patterson). There she must navigate her complicated present while confronting her painful past. When she meets Cal Jones (Murray), the mysterious stranger who is helping her father, the two hit it off like oil and vinegar. Eventually Cal starts to grow on Maggie, which only complicates things further as she must choose between a life in Boston and one in Sullivan's Crossing.
The cast includes Tom Jackson (Cardinal), Andrea Menard (The Velvet Devil), Lindura (Ghosts), Amalia Williamson (Northern Rescue), Reid Price (The Sinner), Lynda Boyd (Virgin River), Peter Outerbridge (ReGenesis), and Lauren Hammersley (Virgin River).
Season 1 of Sullivan's Crossing, which became the highest-rated Canadian drama launch in over two years and the highest-rated Canadian drama launch on CTV in more than three years when it debuted earlier this year, will premiere on The CW this fall.
Taskmaster
This BAFTA-winning and Emmy®-nominated global comedy juggernaut is returning for its 16th season, in which a brand-new bunch of the UK's best and brightest comic minds compete in a series of tricky tasks put forth by the all-powerful taskmaster, Greg Davies (The Cleaner, Cuckoo, Man Down), and observed by his loyal note-taking assistant (and series creator), Alex Horne (Walk on the Wild Side).
Bringing their creativity and ingenuity to this latest season of Taskmaster are Julian Clary (Friday Night Live), Lucy Beaumont (Meet The Richardsons), Sam Campbell (Bloods), Sue Perkins (Perfectly Legal), and Susan Wokoma (Cheaters), who will vie to win points, prizes, and eternal glory in the hope of winning the coveted golden trophy along with bragging rights as the Taskmaster Season 16 Champion.
With its popularity having spawned local versions in Australia, Canada, New Zealand, the Nordics, Croatia, and Portugal, Season 16 of the original British Taskmaster will launch in the UK on Channel 4, with previous seasons available for streaming on All 4. Viewers in the US can watch the full episodes of Seasons 1-13 on the Taskmaster channel on YouTube.
__________________
As an affiliate of Amazon and other cos, affiliate links on this blog allow us to earn income from qualifying actions (at no extra cost to you).

British TV News Bits: The Marlow Murder Club, Mr. Loverman, Taskmaster & More