PBS has set the US premiere for Ridley, a detective drama series starring Adrian Dunbar.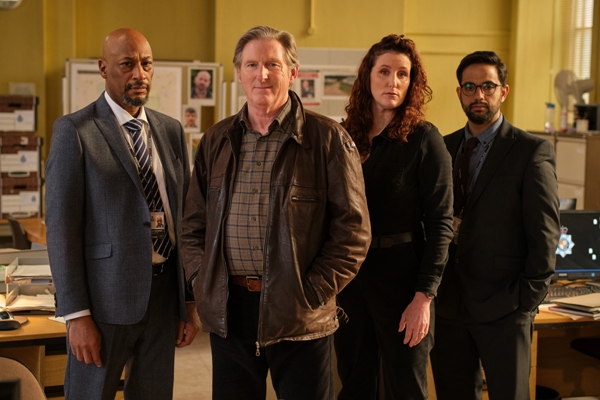 Mother of God! Adrian Dunbar is playing a cop who isn't Ted Hastings!
All joking aside (and no blaspheming intended), Adrian Dunbar (Line of Duty, Blood) is returning to stateside screens in the mystery-crime drama / police procedural series Ridley, in which the BAFTA TV and BAFTA Film Awards nominee plays the titular character.
Alex Ridley (Dunbar) is a former Detective Inspector, having taken early retirement due to a nervous breakdown following the deaths of his wife and daughter. Now, eighteen months later, he is called back to advise on a complex murder case by his replacement and former protégé, DI Carol Farman (Bronagh Waugh, Our House, Unforgotten). Carol is keen to access Ridley's unique insight into crime-solving, which served them so well in the past — but then the investigation takes a dark and unexpected twist.
The case that brings Ridley back to police work is one of four stories told in feature-length episodes that costar Terence Maynard (Sherwood), Georgie Glen (Call the Midwife), George Bukhari (Vera), and Julie Graham (Shetland), amongst others.
Ridley premieres in the US on Sunday, June 18, at 8 PM ET, on linear PBS, with streaming available on PBS.org and the PBS app. New episodes will debut on Sundays in this time slot through August 6. (The series is the lead-in to the ninth and final season of Endeavour.)
Created by Paul Matthew Thompson (Vera) and co-creator Jonathan Fisher (Inspector Lewis), Ridley is inspired by real-life retired detectives who re-joined police forces in consultancy roles.
__________________
As an affiliate of Amazon and other cos, affiliate links on this blog allow us to earn income from qualifying actions (at no extra cost to you).

Ridley: PBS Sets US Premiere Date for Adrian Dunbar-Led Detective Drama Series