Acorn TV announced today the premiere date for its new Original series Cannes Confidential, an international romantic crime drama.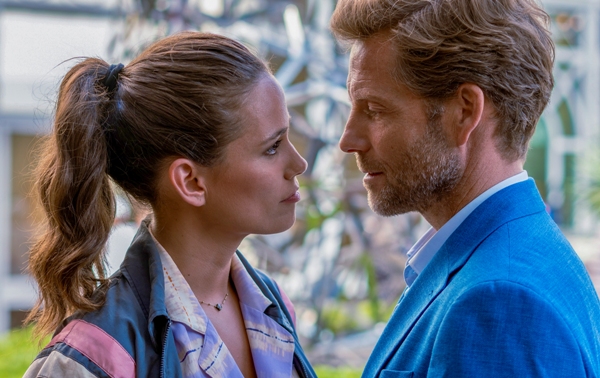 Filmed in Cannes, France, where it made its world premiere last month at the 6th annual Canneseries festival, international romantic crime drama Cannes Confidential stars Lucie Lucas (Gloria, Murder in Acquitaine, Nicolas Le Floch), Jamie Bamber (Strike Back, Marcella, Battlestar Galactica), and singer/actor Tamara Marthe (The Paris Murders).
The six-part series is a high-concept detective drama created by Chris Murray (Midsomer Murders, Agatha Raisin). It centers on the bicker-banter relationship between no-nonsense detective Camille Delmasse (Lucas) and charming international conman Harry King (Bamber). Thrown together solving crimes on the French Riviera, Camille and Harry's relationship lies at the heart of the show against a luxurious Cannes backdrop. The pair's chemistry is complicated by Camille's colleague and wing-woman, Léa Robert (Marthe), and a deal they make to free Camille's ex-Chief of Police father (Jean-Hughes Anglad, Braquo, The Passenger) from corruption charges.
Cannes Confidential, an Acorn TV Original, premieres in North America with two episodes on Monday, June 26, exclusively on Acorn TV. Two new episodes will debut each Monday through July 10.
Set in the Cote d'Azur, Cannes Confidential had unprecedented access to film in the City of Cannes through an exclusive partnership and marks the first English-language procedural drama to be produced and set on the Cote d'Azur since the 1970s. Blending comedy, mystery, and crime within a love story, the series will introduce viewers to a rarely-seen view of Cannes — one beyond the yachts and A-listers — with its fishing boats, local tradesmen, and working-class characters. These two worlds and two versions of reality will collide and be reflected in the personalities of the two main characters.
Cannes Confidential is executive produced by Patrick Nebout (Midnight Sun, Agent Hamilton), Henrik Jansson-Schweizer (Thicker Than Water, Midnight Sun), Catherine Mackin and Bea Tammer of Acorn Media Enterprises (Acorn TV's commissioning, co-producing, and development division), International Drama Development & Artistic Acquisitions Department of TF1, Lotta Dolk of Viaplay, and produced by Daniel J. Cottin at Isolani Pictures. Camille Delamarre (The Transporters, Assassin Club, Into The Night) directed all six episodes.
Acorn TV holds the exclusive distribution rights to the series in North America, New Zealand, Australia, and United Kingdom. Viaplay holds exclusive distribution rights in the Nordic region. Acorn Media Enterprises and Acorn Media International hold worldwide rights in all other territories.
__________________
As an affiliate of Amazon and other cos, affiliate links on this blog allow us to earn income from qualifying actions (at no extra cost to you).

Cannes Confidential: Acorn TV Sets Premiere Date for International Romantic Crime Drama