Ovation TV announced today the updated broadcast premiere schedule for the back half of Season 16 of the hit Canadian series Murdoch Mysteries.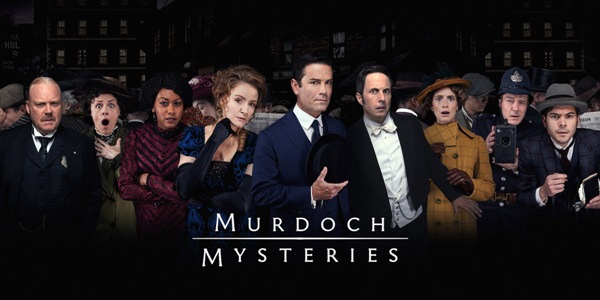 Ovation TV's updated schedule for Murdoch Mysteries is for the last ten episodes of Season 16. The new schedule goes into effect on Saturday, May 20th, when these episodes start airing in pairs — culminating with the two-part season finale on Saturday, June 17. The back-to-back episodes air at 7 PM and 8 PM ET each Saturday on Ovation TV.
Murdoch Mysteries: Season 16, Episodes 15-14
Saturday, May 20, 7 PM & 8 PM ET
Episode 15 — "Breaking Ranks" — Murdoch suspects malfeasance and murder in the apparent drowning of a military recruit.
Episode 16 — "An Avoidable Hinder" — Murdoch is asked by a former logging camp friend to exonerate him in a decades old murder.
Saturday, May 27, 7 PM & 8 PM ET
Episode 17 — "The Ballad of Gentleman Jones" — Murdoch suspects a sequential killer is targeting hobos and enlists Watts to go undercover at a hobo camp with Crabtree.
Episode 18 _ "Virtue and Vice" — Murdoch investigates the murder of a respected art dealer, who had a sideline selling illegal pornographic drawings.
Saturday, June 3, 7 PM & 8 PM ET
Episode 19 — "Whatever Happened to Abigail Prescott" — To prove Ogden's innocence in the death of an alderman's wife, Murdoch pursues the politician with a vengeance.
Episode 20 — "Just Desserts" — Nearly exonerated, Ogden is implicated in the warden's murder, as Murdoch delves into the death of a fraternity pledge.
Saturday, June 10, 7 PM & 8 PM ET
Episode 21 — "Murder in F Major" — When the director of Toronto's new symphony is murdered, Murdoch suspects jealous musicians are responsible.
Episode 22 — "Scents and Sensibility" — When a bride mysteriously collapses and dies before her wedding, Murdoch suspects she was poisoned by her perfume.
Saturday, June 17, 7 PM & 8 PM ET
Episode 23 — "The Long Goodbye, Part 1" — Murdoch's investigation of a constable's murder is hampered by interference from Brackenreid's overzealous replacement.
Episode 24 — "The Long Goodbye, Part 2" — Disgusted by the new inspector's tactics, Murdoch resigns and is privately enlisted to find a missing heiress.
__________________
As an affiliate of Amazon and other cos, affiliate links on this blog allow us to earn income from qualifying actions (at no extra cost to you).

Murdoch Mysteries: Ovation TV Updates Schedule for Season 16 of Hit Canadian Series