Woo hoo! We have the premiere date for Season 2 of Good Omens, folks!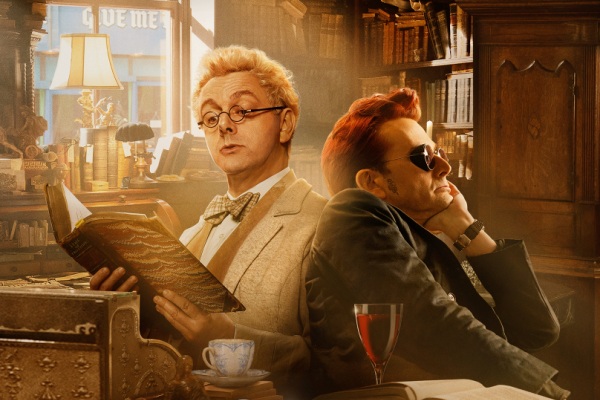 Without any further ado…
Good Omens: Season 2 premieres globally on Friday, July 28, exclusively on Prime Video, where Season 1 of the hit fantasy series starring David Tennant (Doctor Who, Broadchurch, Staged) and Michael Sheen (Masters of Sex, Prodigal Son, Staged) is streaming.
Unlike Season 1, which is based on the well-loved and internationally best-selling novel Good Omens: The Nice and Accurate Prophecies of Agnes Nutter, Witch by Terry Pratchett and Neil Gaiman, Season 2 is an original story that illuminates the uncanny friendship between the beloved unholy duo of Aziraphale (Sheen), a fussy angel and rare book dealer, and the fast-living demon Crowley (Tennant). Having been on Earth since The Beginning, and with the Apocalypse thwarted, Aziraphale and Crowley are getting back to easy living amongst mortals in London's Soho when an unexpected messenger presents a surprising mystery.
In addition to Tennant and Sheen, also reprising their roles are Jon Hamm (Mad Men) as Archangel Gabriel, Doon Mackichan (Two Doors Down) as Archangel Michael, and Gloria Obianyo (Outlander) as Archangel Uriel. Returning this season in new roles are Miranda Richardson (Harry Potter) as demon Shax, Maggie Service (Quiz) as Maggie, and Nina Sosanya (Last Tango in Halifax) as Nina. Joining the misfits in Heaven and Hell are Liz Carr (Silent Witness) as angel Saraqael, Quelin Sepulveda (The Man Who Fell to Earth) as angel Muriel, and Shelley Conn (Bridgerton) as demon Beelzebub.
As a special celebration for fans, Gaiman collaborated with superfans Hilly and Hannah Hindi of the The Hillywood Show® to reveal the Season 2 premiere date in the awesome fan-funded video Good Omens Parody.
Good Omens: Season 2 is showrun by Neil Gaiman, who executive produces along with Douglas Mackinnon, who returned to direct all six episodes. Rob Wilkins of Narrativia, representing Terry Pratchett's estate, John Finnemore, and BBC Studios Productions' head of comedy Josh Cole also executive produce, with Finnemore serving as co-writer alongside Gaiman. The new season is produced by Amazon Studios, BBC Studios Productions, The Blank Corporation, and Narrativia.
__________________
As an affiliate of Amazon and other cos, affiliate links on this blog allow us to earn income from qualifying actions (at no extra cost to you).

Good Omens: Prime Video Announces Premiere Date for Season 2 of Hit Fantasy Series