Peacock announced today the lead cast for The Tattooist of Auschwitz, the new Sky and Peacock Original drama series.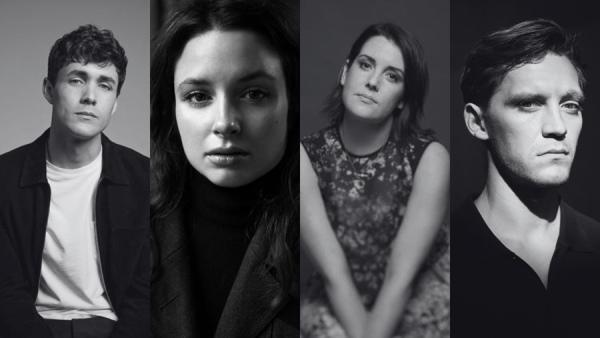 The highly-anticipated new drama series The Tattooist of Auschwitz, based on the bestselling novel of the same name, will star Jonah Hauer-King (World on Fire, Howards End), Anna Próchniak (Baptiste, Heart Parade), Melanie Lynskey (The Last of Us, Yellowjackets), and Jonas Nay (Deutschland 83/86/89, Line of Separation).
Hauer-King and Próchniak will play the lead roles of Lale Sokolov and Gita Furman, with Lynskey set to star as the book's author, Heather Morris, and Nay as Stefan Baretzki. The award-winning Tali Shalom-Ezer (Princess, My Days of Mercy) is on board to direct all six episodes of the limited event series.
The heartrending series, about bravery and love in the darkest of places, tells the powerful true-life story of Lale Sokolov, a Jewish prisoner who is given the job of tattooing identification numbers on fellow prisoners' arms in the Auschwitz-Birkenau concentration camp during World War Two. One day he meets Gita when tattooing her prisoner number on her arm, and they experience love at first sight.
So begins a courageous, unforgettable, and human story — told through one man's memory and experience of Auschwitz-Birkenau — a tale of the very best of humanity in the very worst of circumstances.
Said Jonah Hauer-King:
"It is a huge privilege to be telling Lale's incredible story — one that he was so courageous to share. I have the utmost respect and admiration for his ability to find humanity and kindness in the most inhumane of places. These scripts heartbreakingly and vividly depict this appalling time in our history, and I feel proud to be honouring Lale and Gita's remarkable journey."
Added Anna Próchniak:
"Reimagining Gita Sokolov and her story for screen has been one of the greatest honours of my career so far, as well as a heartrending experience. I know this won't be an easy story to tell, but I will treat their story with the utmost respect."
Melanie Lynskey commented:
"After the horrors experienced at Auschwitz-Birkenau, the continuation of Lale and Gita Sokolov's story is finding their new home, and it was years later in Australia Lale felt comfortable to share his story with New Zealand author Heather Morris. As a New Zealand storyteller in my own way, it is a privilege to be a part of the furthering of Lale's and Gita's heart-breaking, yet heart-warming story."
And director Tali Shalom-Ezer stated:
"In Auschwitz, a factory of death and dehumanisation, Lale and Gita's love story is an act of defiance. It is the choice to remain human. I'm inspired and honoured to bring this story to life, alongside the talented team of people assembled."
Produced by Synchronicity Films in association with Sky Studios, in association with All3Media International, The Tattooist of Auschwitz was commissioned by Serena Thompson, Executive Producer at Sky Studios for Zai Bennett, Managing Director of Content, Sky UK. Claire Mundell is Executive Producer for Synchronicity Films. Lead Writer Jacquelin Perske is also an Executive Producer on the project, and Heather Morris is Story Consultant. Evan Placey and Gabbie Asher are episode writers.
The series is a co-production between Sky Studios and Peacock, with NBCUniversal Global Distribution and All3Media International jointly handling international sales of the series.
Stan, Australia's leading local streamer, is taking the Original rights to the series in their territory, with Viaplay taking Viaplay Series rights for the Nordics (Sweden, Norway, Denmark, Finland, Iceland), Baltics (Estonia, Latvia, Lithuania), the Netherlands, and Poland.
Currently in production, The Tattooist of Auschwitz will be available on Sky Atlantic and streaming service Now in 2024 in the UK, Ireland, Italy, and Germany. Stay tuned for updates about the US premiere date.
__________________
As an affiliate of Amazon and other cos, affiliate links on this blog allow us to earn income from qualifying actions (at no extra cost to you).

The Tattooist of Auschwitz: Lead Cast Announced for Sky & Peacock Original Drama