Motoring enthusiast, world traveler, and novice home cook James May will be returning in new seasons of James May: Our Man in… and Oh Cook!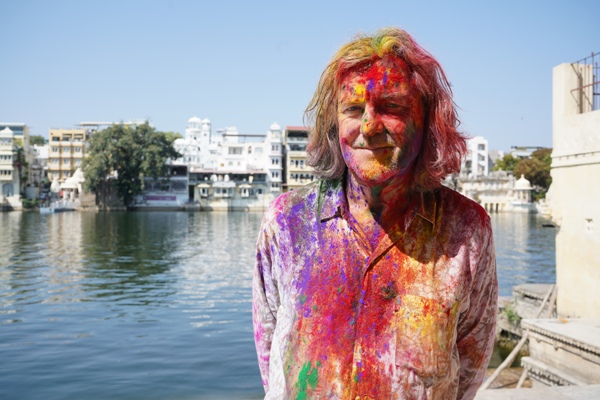 James May (The Grand Tour) has hit the road for the third installment of his "Our Man in…" travel series, which is currently filming in Southeast Asia. For James May: Our Man in India, he goes on an epic adventure across 3,000 miles of the Indian subcontinent.
May starts in Mumbai, then travels north through Udaipur to experience the Holi festival, before heading into Rajasthan. He'll then cover Delhi, Agra, and Jaipur — known as the "golden triangle" — before following the Ganges eastwards to the holy city of Varanasi. After that is a trip to Kolkata, followed by the Himalayan foothills around Darjeeling, before ending his journey in the natural wonders of the Sundarbans.
James May: Our Man in India follows the success of James May: Our Man in Japan and James May: Our Man in Italy, whose director and executive producer, BAFTA nominee Tom Whitter (James May's Toy Stories) Will Daws (James May's Man Lab), are working with him on the new season, as well.
James May: Our Man in India will launch globally in early 2024. Stay tuned for updates.
May may have traveled to places across the globe for The Grand Tour and Top Gear, but he had barely made his way around the kitchen, specifically the cooker, before James May: Oh Cook!. In this series, May goes on a gastronomical adventure in the kitchen as he attempts (and, with a bit of help, succeeds) to make cuisines from around the world — proving that you don't need to be a cooking wizard to make delicious food.
The new season will continue May's journey from kitchen klutz to capable cook, as he prepares mouth-watering dishes and masters the tricks that can make good food great — using ingredients you can buy from your local shop and without all the usual television-cooking-format trickery.
James May: Oh Cook! Season 2 premieres globally on Wednesday, May 24, exclusively on Prime Video.
Said James May about both series: "I've been to India before, and it's mesmerising. I can't wait to go back for Series Three of Our Man In…. And for Oh Cook! fans, it's also the perfect opportunity to perfect my daal."
__________________
As an affiliate of Amazon and other cos, affiliate links on this blog allow us to earn income from qualifying actions (at no extra cost to you).

James May Returning in New Seasons of James May: Our Man In… & Oh Cook!