Paramount+, CBC, and Piazza Entertainment announced today that production has begun on Season 2 of the high-stakes Canadian medical drama Skymed.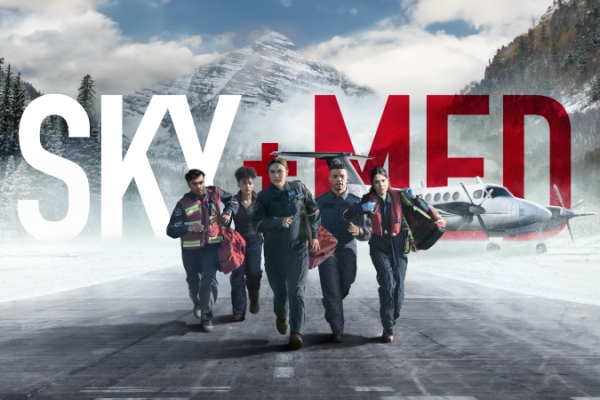 Production has licked off in Ontario and Manitoba, Canada, on the second season of Skymed, the ensemble-cast drama about young medics and pilots flying air ambulances in remote Northern Canada. The character-driven stories follow the team members as they engage in high-stakes medical rescues and deal with both triumphs and tribulations.
Season 2 promises new hookups, breakups, and heartbreaks as the medevac service expands into new territory, throwing the flight crew into intense new emergencies at work and in their personal lives.
Reprising their roles for the new season are Natasha Calis (Nurses) as Nurse Hayley Roberts, Aason (Ace) Nadjiwon (Batwoman) as golden boy pilot Captain Austen Bodie, Morgan Holmstrom (Outlander) as no-nonsense Nurse Crystal Highway, Praneet Akilla (Motherland: Fort Salem) as First Officer Chopper, Thomas Elms (The Order) as icy-cool pilot Captain Nowak, Mercedes Morris (American Gods) as First Officer Lexi Martine, and Kheon Clarke (Riverdale) as Nurse Tristan Green. Also returning are Braeden Clarke (Outlander) as Jeremy Wood, Crystal's charming on-again-off-again love interest, and Aaron Ashmore (Locke & Key) as Wheezer, the wise-cracking big brother that everyone looks up to.
Joining the cast in Season 2 are Sydney Kuhne (Ginny & Georgia) as fiery new flight medic Stef, Ryan Ali (The Hummingbird Project) as handsome young pilot Reese, and Nadine Whiteman-Roden (Faith Heist) as Dr. Yana Noah.
Created by Julie Puckrin (Transplant, X Company) and inspired by her sister and brother-in-law, who met flying air ambulances, the series, a production of Piazza Entertainment in association with CBC, Canada's national public broadcaster, and CBS Studios, is executive produced by Julie Puckrin, Gillian Hormel, and Vanessa Piazza.
Slymed: Season 2 will be available in Canada on CBC TV and CBC Gem, and streaming exclusively on Paramount+ in the US and internationally in the UK, Australia, Latin America, Brazil, Italy, France, and Germany.
Stay tuned for updates.
__________________
As an affiliate of Amazon and other cos, affiliate links on this blog allow us to earn income from qualifying actions (at no extra cost to you).

Skymed: Production Starts on Season 2 of Canadian Medical Drama