Acorn TV announced today the multi-territory release date for the second season of its popular Original mystery series Dalgliesh starring Bertie Carvel.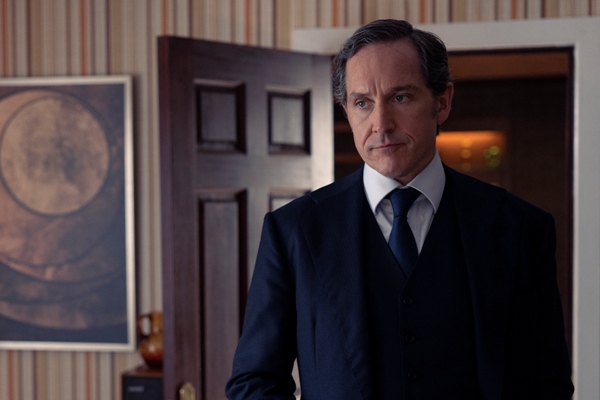 Ah, Dalgliesh. For a detective who's "always felt that popularity was overrated," he is quite the popular character for both viewers of the Acorn TV Original Dalgliesh and readers of the book series, "Adam Dalgliesh Mysteries" by P.D. James, on which the TV series is based.
And he's coming back to our screens when Dalgliesh, starring Bertie Carvel (The Crown, Jonathan Strange & Mr. Norrell) as the enigmatic titular investigator, returns with its second season, which features three two-part stories adapted from James's works. "Death of an Expert Witness" premieres in North America, Australia, and New Zealand on Monday, April 24, followed by "A Certain Justice" on Monday, May 1, and "The Murder Room" on Monday, May 8 — all exclusively on Acorn TV.
As with Season 1, the second season sees DCI Adam Dalgliesh, a distinguished detectives à la Holmes and Poirot, taking us through 1970s England as he solves unusual murders, including a senior forensic biologist found dead in his lab, an illustrious but controversial defense barrister found deceased in her chambers, and a young doctor being set on fire in the grounds of his family museum.
Carlyss Peer (The Crown, Doctors) reprises her role as DS Kate Miskin, with Alistair Brammer (Medieval, Les Misérables) joining this season as DS Daniel Tarrant.
Guest stars in Season 2 include (alphabetically): Yaseen Aroussi (Irma Vep), Margaret Clunie (Andor), Michael Culkin (Bridgerton), Sorcha Cusack (Father Brown), Deborah Findlay (The Split), Richard Harrington (Gangs of London), Anastasia Hille (I Hate Suzie), Sam Hoare (Grace), Sylvestra Le Touzel (The Crown), Michael Maloney (Magpie Murders), Dominic Rowan (Law & Order: UK), Sara Stewart (State of the Union), and Daisy Waterstone (The Durrells in Corfu).
Here's what we can expect to see in Dalgliesh: Season 2:
"Death of an Expert Witness, Parts 1 and 2" (Episodes 1 and 2, Monday, April 24) — When a senior forensic biologist is found dead in his lab, Dalgliesh is called to East Anglia, where the murderer is lying in wait to strike again. After another body is discovered, Dalgliesh and Miskin untangle a web of infidelities in this rural community, unearthing a killer with secrets to hide and tracks to cover.
"A Certain Justice, Parts 1 and 2" (Episodes 3 and 4, Monday, May 1) — When controversial barrister Venetia Aldridge is found dead in her chambers, suspicion falls on her colleagues and her daughter's new fiancé. As their investigation continues, Dalgliesh, Miskin, and Tarrant uncover a tragic web of association between the victims and witnesses, but time is running out to save Octavia from a terrible fate.
"The Murder Room, Parts 1 and 2" (Episodes 5 and 6, Monday, May 8) — When a young doctor is set on fire on the grounds of his family museum, everyone who works there comes under suspicion, including his own siblings. And there's more. After the appalling discovery of a second body, the race is on to find the murderer, leading Dalgliesh and his team to discover a scandalous society at the heart of the museum.
Acclaimed screenwriter and playwright Helen Edmundson (Mary Magdalene, An Inspector Calls) is the lead-writer, with Stewart Harcourt (Agatha Raisin, Maigret) scripting episodes 3 and 4. The directors are Geoffrey Sax (Victoria, Endeavour) for Episodes 1 and 2, Andrew Tohill and and Ryan Tohill (The Dig, Insulin) for Episodes 3 and 4, and Jon Wright (Unwelcome, Brassic) for Episodes 5 and 6.
The series is executive produced by Elaine Pyke, Willow Grylls, Emily Russell, and Edmundson for New Pictures, and Catherine Mackin for Acorn Media Enterprises. Dalgliesh is a New Pictures Production for Acorn TV and Channel 5 in association with All3media International, with funding from Northern Ireland Screen.
__________________
As an affiliate of Amazon and other cos, affiliate links on this blog allow us to earn income from qualifying actions (at no extra cost to you).

Dalgliesh: Acorn TV Sets Multi-Territory Premiere Date for Season 2 of Popular Mystery Series