Netflix has released the official trailer for its new ghost-hunting supernatural series Lockwood & Co., which is terrific. Check it out.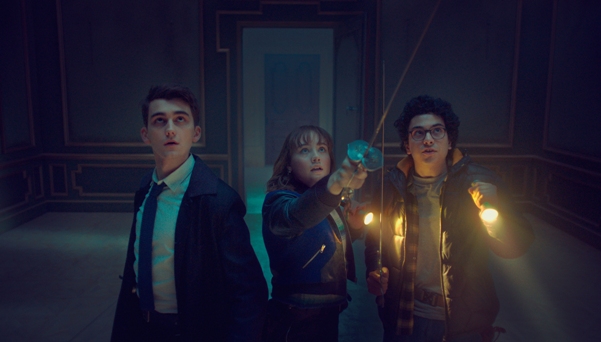 Pretty much any trailer that uses The Clash's "London Calling" will grab my attention, which the one for Lockwood & Co. did. I love this song, and when I heard first the unmistakable howling, then Joe Strummer's vocals, a chill went up my spine and the hair on the back of my neck stood up. (I hope more of the song will be used in the series, like in the film Billy Elliot.)
Anyhoo, as to the show, Lockwood & Co. is based on best-selling author Jonathan Stroud's critically-acclaimed, award-winning series of "Lockwood & Co." novels. The eight-episode series follows a trio of London's most gifted teenage ghost-hunters, who venture nightly into perilous combat with deadly spirits, and stars Ruby Stokes (Bridgerton, Da Vinci's Demons), Cameron Chapman, and Ali Hadji-Heshmati (Holby City, Alex Rider).
As we see in the trailer, violent ghosts aren't the only gnarly things the three are up against.
In a world plagued by ghosts, where giant corporations employ psychic teens to battle the supernatural, only one company operates without adult supervision: Lockwood & Co. Run by Anthony Lockwood (Cameron Chapman), a rebellious young entrepreneur haunted by his mysterious past, his brilliant but eccentric sidekick George (Ali Hadji-Heshmati), and a newly-arrived, supremely-gifted girl named Lucy (Ruby Stokes), this renegade trio is about to unravel a terrifying mystery that will change the course of history.
Lockwood & Co., a Netflix Original, premieres globally on Friday, January 27, 2023, exclusively on Netflix. (You can set a reminder for it now.)
The cast includes Ivanno Jeremiah (A Discovery of Witches, Humans), Jack Bandeira (Silent Witness, Young Wallander), Morven Christie (The Bay, The A Word), Rhianna Dorris (The Kid Who Would Be King, Secret Life of Boys), Paddy Holland (Invasion, Holmes & Watson), and Luke Treadaway (Traitors, Fortitude).
A production of Complete Fiction for Netflix, Lockwood & Co. is co-directed and co-written by showrunner Joe Cornish (The Kid Who Would Be King, The Adventures of Tintin), who executive produces alongside Nira Park and Rachael Prior. Other writers include Ed Hime (Doctor Who), Kara Smith (Anansi Boys), and Joy Wilkinson (Doctor Who), and co-directors include William McGregor (His Dark Materials) and Catherine Morshead (Downton Abbey).
__________________
As an affiliate of Amazon and other companies, ads & affiliate links on this blog allow us to earn income from qualifying actions and purchases (at no extra cost to you).

Lockwood & Co.: Netflix Drops Terrific Trailer for New Supernatural Series