Dastardly crimes mar the tranquility of the titular seaside town in the new season of Whitstable Pearl.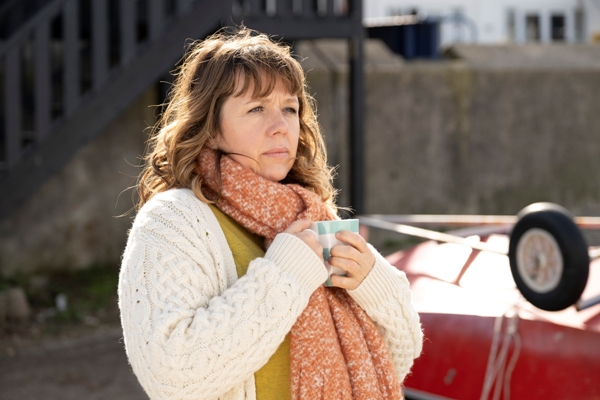 A good whodunit series is like chips: you can't eat/watch just one. So, after recovering from a Thanksgiving-fueled food coma, I binged the screeners for all six episodes in Season 2 of Whitstable Pearl, the show inspired by Julie Wassmer's series of "Whitstable Pearl Mysteries" novels.
Reprising their lead roles are Kerry Godliman (After Life, Trigger Point, Save Me) as local restaurateur and private investigator Pearl Nolan, and Howard Charles (Shadow and Bone, Top Boy, The Musketeers) as London transplant DCI Mike McGuire, now the Kent police chief. Returning cast members also include Frances Barber (The Chelsea Detective) as Pearl's mum, Dolly; Rohan Nedd (Harry Wild) as Pearl's son, Charlie; Sophia Del Pizzo (Shelley) as DS Nikki Martel; and Isobelle Molloy (Maleficent) as Pearl's employee and Charlie's girlfriend, Ruby.
In the Season 2 opener, "Babylon," it's been six months since Pearl and Mike ended their romance, and both have started dating others in the form of kindhearted Tom (Robert Webb, Back, Peep Show) and cheery Kat (Emily Head, The Inbetweeners, The Syndicate). Although Dolly isn't all that keen on Tom, at least initially, she'll still get him to help out at the restaurant while he's there and Pearl is out doing her investigative work. And while Pearl and Mike are no longer an item, they do reunite professionally. Bringing them back together is the case of a missing pre-teen boy, believed to have been abducted from his mum and her partner's home in France by his ex-soldier dad, Dan (Okezie Morro, The Mist). Despite what CCTV footage shows, Dan denies it and hires Pearl to find his son.
Reminiscent of Rear Window is "Night Terrors," which finds Mike laid up at home with a broken ankle and observing his neighbors across the street to while away the hours. One night Mike calls the police to report an assault, but the alleged attacker and victim explain it away as a case of night terrors. Mike's not buying it, though, believing the night terrors are a cover for a to-be-committed murder, and hires Pearl to help him prove it.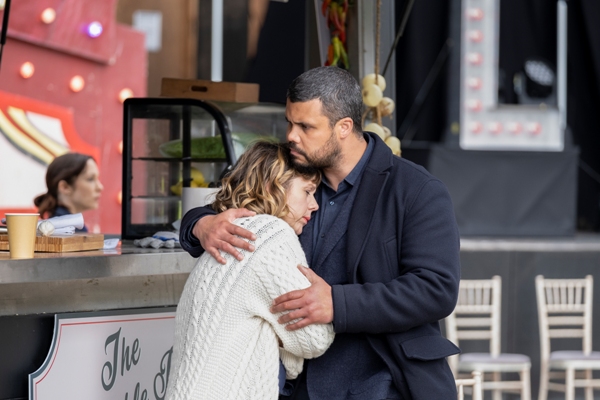 In "The Offer," pub owner Molly (Bobby Rainsbury, Vigil) hires Pearl to find out who's been leaving her threatening notes (and a dead seagull) after she hired estate agent Lauren (Hannah Rae, Broadchurch) to sell her just-inherited pub to the highest bidder instead of to a local organization, as her late mum had promised. When the person with the winning bid turns up dead, several Whitstable residents find themselves suspected of murder.
"The Gumshoe and the Femme Fatale" finds Pearl trying to figure out why Natalia (Lizze Aaryn-Stanton, Call the Midwife), the housekeeper to a reclusive movie star, would attack her employer and then do a runner after the aging actress bequeathed the bulk of her estate to Natalia in her new will. It doesn't make sense, especially after Natalia had told Pearl about the will and her fears for both herself and the actress before the attack.
It isn't lost on Nikki that Pearl isn't at the crime scene when she and Mike are called to a local shop to investigate a robbery in "Hidden Treasures." Meanwhile, Pearl has a different puzzle to solve: Strange things have been happening at Dolly's house, so either Dolly is starting to exhibit signs of dementia or someone uninvited has been making themselves at home in her home — on more than one occasion.
And in "To Those We Love," Pearl and Ruby are taking a break from serving oysters during a wedding celebration when they discover a dead body. Things don't look good for Pearl when a crime scene tech finds the murder weapon: one of her oyster shucking knives. Told once again by Mike not to get involved, Pearl does (of course), by getting hired by one of the suspects to find a mysterious person that no one seems to know.
In addition to their crime work, Pearl and Mike have personal things to deal with. For her, it's Charlie, who wants to spend time with his dad at his place. In Canada. For Mike, it's his grief, still as profound as when he first relocated to Kent, despite going to counseling, attending a grief support group, and being on the receiving end of Kat's let's-move-forward-and-be-happy efforts. And in spite of Pearl and Mike dating other people now, their feelings for each other haven't gone away. What they do with them… hmm…
So, the tension between Pearl and Mike is a different sort of will-they-or-won't-they situation than in the first season — a deeper one, given their history, and a more complicated and awkward one, given their new partners. While their relationship is a key element of the show, thankfully the storylines don't rely on the personal aspect of it so heavily that it becomes a distraction to the mystery in each episode. Thus, the new season is able to maintain its watch-worthiness and doesn't fall off a cliff because they had gotten together (as has happened with other series involving lead characters who hooked up).
As with all mystery series, some of the whodunits are more clever than others in Season 2, but all are thoroughly entertaining. (Ergo, my binge.) My favorites are "The Offer," "Night Terrors" and "Babylon." And I quite enjoyed the thriller elements in the episodes that feature them, as well as seeing special guest stars Juliet Aubrey (Professor T), Stephanie Beecham (Dynasty), and Jo Martin (Doctor Who).
For newbies to Whitstable Pearl, it isn't strictly necessary to watch Season 1 before Season 2, as the mystery stories are self-contained, but it does help to know the backstories of the characters. They help to explain certain things; for example, why the investigation plays out the way it does in "Hidden Treasures."
Whitstable Pearl: Season 2, an Acorn TV Original, premieres in the US with its first two episodes tomorrow, Monday, November 28, exclusively on Acorn TV. New episodes will debut in pairs through December 12.
__________________
As an affiliate of Amazon and other cos, affiliate links on this blog allow us to earn income from qualifying actions (at no extra cost to you).

Whitstable Pearl: A Half-Dozen Entertaining Whodunits in Mystery Series' Second Season