BritBox International announced today the lead cast for Three Little Birds, a new drama series from Sir Lenny Henry being co-produced with ITV.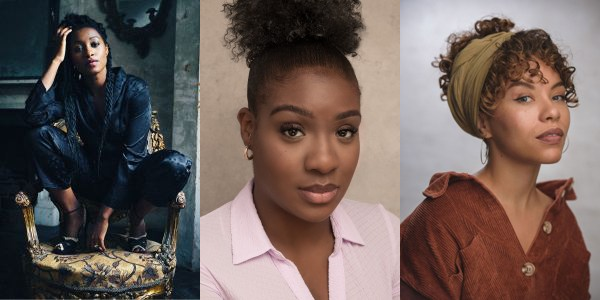 Rising stars Rochelle Neil (The Nevers, Guilt, Das Boot), Yazmin Belo (What Just Happened, Mother's Cry), and Saffron Coomber (Small Axe, C.B. Strike, Eastenders) have been cast as the leads in Sir Lenny Henry's brand-new drama series Three Little Birds.
Spirited, moving, funny and heartfelt, Three Little Birds is a triumphant celebration of immigration, community and the strength of Black womanhood — inspired by the life-affirming stories of Sir Lenny Henry's mother and all those who have traveled to make Britain their home.
Set in 1957, post-Windrush and amidst the booming decade set alight by promise, the rhythm of rock and roll, swing, Hollywood starlets and fabulous fashion, the six-episode series will introduce Dudley and the rest of the world to gregarious sisters Leah (Rochelle Neil) and Chantrelle (Saffron Coomber) and their virtuous, bible-loving acquaintance, Hosanna (Yazmin Belo), as they board a cruise ship from Jamaica bound for a new life in Blighty.
Lured to the UK in search of new beginnings, and asked by their older brother, Aston (Javone Prince, Dodger), if they'll bring him a potential wife from back home, Leah and Chantrelle convince Hosanna to give up her job as a trainee nurse and embark upon the journey to "the mother country." They all have very different reasons for leaving their family and friends behind in Clarendon, Jamaica, though they soon discover it's not all it's cracked up to be, not least the dramatic change in weather. The trio's voyage of discovery is not smooth sailing, but they are determined to succeed and overcome the many obstacles of integration and build a new life in Britain.
Costars in the series include Bobby Gordon (Hollyoaks) as the sisters' new factory-worker colleague, Shelton, and Arthur Darvill (Broadchurch, Doctor Who) and Beth Hayes (Mr. Selfridge, Bridgerton) as Mr. and Mrs. Wantage, Chantrelle's employers, who expect far more from her than just cooking shepherd's pie and minding their three children as their new live-in nanny.
Rochelle Neil said:
"It's wonderful to have the opportunity to give a voice to such a pioneering generation, in all their complexities. In many ways, Leah feels like a love letter to my grandmothers. A chance to explore the lives of the women that led to me being here and who I am today. I know they both would have been absolutely thrilled, as am I."
Yazmin Belo added:
"The project is a truthful depiction and great homage to my direct lineage. Being able to help tell this story is an honour, I wish only to tell the truth. I am excited to be playing the role of Hosanna. Her humanitarian nature, tenacity and ability to not quite accept what is going on around her, are some of the attributes I admire about her."
Saffron Coomber enthused:
"I screamed when I found out that I was cast in Three Little Birds. It is a dream come true. Chantrelle is the kind of character I'd only hoped I'd get to play one day. It is an honour to tell an overlooked story of British history that is so close not only to my family but to so many, notwithstanding working with Lenny whom has been a legend in my home since I can remember. I am constantly inspired by my castmates and the stellar crew. I am in awe of the project and can't wait to share it- pinch me!"
And Sir Lenny Henry commented:
"I think I've been waiting to write this show for my entire life. It's inspired by my mother's numerous stories about travelling to Britain by boat in the mid-fifties. However, the joyous aspect of this project is the way we as a team have created a whole new narrative environment so that we can tell a whole raft of stories. Leah, Chantrelle and Hosanna (as portrayed by Rochelle, Saffron and Yasmin) pour their hearts into this rendition of all our parents' stories. Our directors, Charles, Yero and Darcia are supercharged and ready, bringing the whole thing to glorious life. I am so proud to be associated with these tales of cold streets, uniting in the face of the traditional obstacles (racism, misogyny, poverty) and stolen moments of love, affection and sisterhood. Big respect to everyone involved. Phew!"
A project of Tiger Aspect Productions in association with Sir Lenny Henry's production company, Douglas Road Productions, the series is written by Sir Lenny Henry along with guest episode writers Carol Russell (Soon Gone: A Windrush Chronicle) and Avril Russell (Silent Witness). Charles McDougall (The Office), Yero Timi-Biu (The Read), and Darcia Martin (Father Brown) will direct two episodes each.
Lenny Henry, Lucy Bedford, Kate Crowe, Russell T. Davies, Charles MacDougall, and Angela Ferreira will serve as Executive Producers, with Stella Nwimo producing. The series is co-produced by BritBox International, with Diederick Santer as Executive Producer. It was commissioned for ITV by Head of Drama Polly Hill, who is overseeing production from the channel's perspective.
Currently filming in the Midlands, Three Little Birds is slated for transmission on ITV in the UK and BritBox International in the US, Canada, Australia, South Africa, and the Nordics in 2023. Stay tuned for updates.
__________________
As an affiliate of Amazon and other cos, affiliate links on this blog allow us to earn income from qualifying actions (at no extra cost to you).

Three Little Birds: Lead Cast Announced for New ITV-BritBox International Drama Series