Prime Video announced today that its hit thriller series, The Devil's Hour, starring Jessica Raine and Peter Capaldi, will be back for Seasons 2 and 3. (Yay!)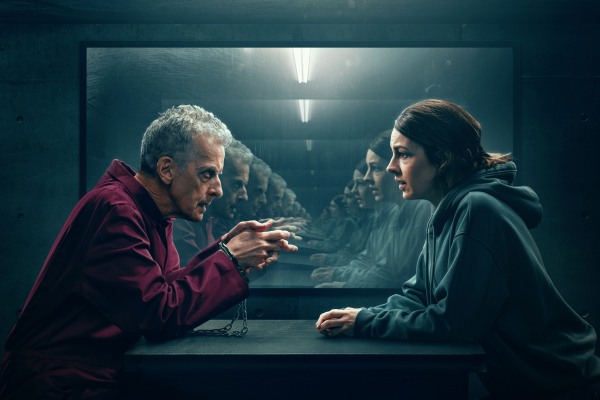 Hooray! The Devil's Hour has been renewed for two more seasons!
It's confirmed that series stars Jessica Raine (Baptiste, Patrick Melrose) and Peter Capaldi (Doctor Who, The Thick of It) will reprise their roles for the second and third seasons, and that Nikesh Patel (Starstruck), Phil Dunster (Ted Lasso), Meera Syal (Yesterday), and Benjamin Chivers are returning, as well. The new seasons will also feature new characters.
My glee at this news is shared by many (most?) folks who've watched (binged) The Devil's Hour, because the first season is brilliant.
The story follows social worker Lucy Chambers (Jessica Raine, Baptiste, Patrick Melrose), who has awakened from a nightmare each night at exactly 3:33am (aka the devil's hour) for years. Lucy's young son, Isaac (Benjamin Chivers), is emotionless, her mum suffers from dementia, and all three show other signs that something is not quite right with them. Meanwhile, as DI Ravi Dhillon (Nikesh Patel), a cop with a bit of Doc Martin about him, and his partner are investigating a couple of murders, they come across Lucy Chambers's name. How is Lucy linked to these crimes? And what's the deal with serial killer Gideon (Peter Capaldi)? For answers to these questions and more, (re)watch the twisty-turny, timey-wimey, supernatural, sci-fi, mystery thriller series The Devil's Hour (if you haven't already).
The new seasons of The Devil's Hour will continue the story of Lucy Chambers and the hunt for Gideon. In Season 2, Gideon's true intentions are finally revealed, as he attempts to involve Lucy in his mission to stop an elusive force of evil. Simultaneously a sequel and a prequel to Season 1, we are advised to "expect nothing but the unexpected…"
The Devil's Hour, an Amazon Original series, is produced by Hartswood Films (Dracula, Sherlock), written by Tom Moran (The Feed), and executive produced by Steven Moffat (Doctor Who, Dracula, Sherlock), Moran, and Sue Vertue (Dracula, Sherlock).
Said Dan Grabiner, head of UK Originals, Amazon Studios:
"We're thrilled with the audience response to The Devil's Hour, and can't wait to share the next chapter of this mind-bending story. Fans can look forward to plenty more twists and turns in this remarkable tale from first-time series creator Tom Moran, and welcoming back our immensely talented cast, led by Jessica Raine and Peter Capaldi."
Sue Vertue, executive producer and CEO of Hartswood Films, enthused:
"It goes without saying that we are over the moon to be continuing Lucy's story with two more series. Tom Moran and his big brain have so much more planned for us all. This was always envisioned as a three-series arc, and it's going to be a thrilling ride."
And series creator and writer Tom Moran commented:
"Telling a story on television is a precarious business. Series One of The Devil's Hour was just the beginning—the opening act of a TV novel. I'm so thrilled that we get to keep turning those pages and slotting the puzzle pieces into place. If you thought the final episode of Series One had all the answers, then you haven't been asking the right questions."
The new seasons of The Devil's Hour will begin filming early next year, and will launch globally in more than 240 territories exclusively on Prime Video.
Stay tuned for updates.
__________________
As an affiliate of Amazon and other cos, affiliate links on this blog allow us to earn income from qualifying actions (at no extra cost to you).

The Devil's Hour: Prime Video Gives Fantastic Thriller Series Two-Season Renewal